The BoomBustBlog Pan-European Distressed Asset Acquisition Initiative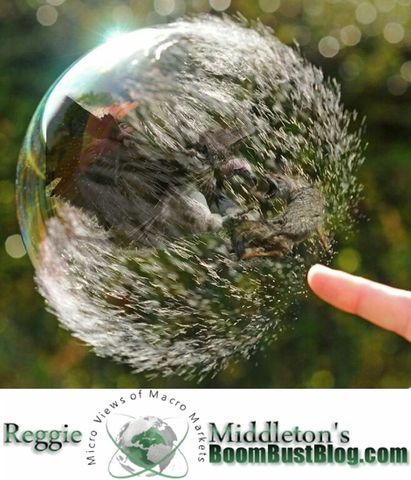 Believe it or not, we actually have a mini-bubble within this bubble crash as vulture investors fight for the scraps disgorged by indebted sovereigns and over-leveraged banks. The time is not ripe just yet and I plan to allow the carrion feeders to price destruct amongst themselves as I await the coming interest rate storm which will truly bring about a once in a lifetime wealth creation opportunity.
Arguably, more millionaire money was made during the Great Depression than at any time in history. Well, if that's true then it looks as if history may be poised to repeat itself. The question is, who will be ready?
Executive Summary
Asset sales by European sovereign nations, central and private banks have made global investors and speculators scour for cheap assets that have the potential to yield higher than average risk adjusted. However, the search process is not that easy, as sellers are adopting a 'wait and see' policy assisted by the European Central Bank's facilitation of (extremely) cheap financing and liquidity measures. The market now witnesses by too many buyers chasing too few distressed assets. Hence the speculation about future returns has actually caused a mini-bubble in distressed asset prices. Professional subscribers should download the full version
Asset sale by sovereigns is can be seen in the sale of stakes in government owned infrastructure assets and corporations. However, the approach adopted to dispose of these assets is to make partial sales in tranches in order to participate in any benefits of valuation recovery.
Professional and institutional subscribers should download the full version of this document (

The BoomBustBlog Pan-European Distressed Asset Acquisition Initiative) which outlines investment opportunities in the following nation/banks: UK, Portugal, Italy, Cyprus, Greece, Ireland and Spain. Our initiative runs the gamut from whole companies and equities, to real estate, infrastructure assets, rare earth and hard tangible assets to IP.
Dispositions by Europeans banks have consisted mostly of foreign assets outside of Europe. Most of these assets had the potential for high returns but are being offered at prices reflecting the perception that future investment performance would be robust. This is why there is so much interest in the private equity and asset management space in scanning for strong deals among those assets. However, the competition among these entities to buy quality assets at reasonable valuations has created a micro bubble of sorts, the type that make profitable vulture investing a very difficult proposition.
Sale of Sovereign Assets
Faced with mounting debt burdens, many European nations are under tremendous pressure to cut fiscal deficits
Related research…


A Review of the Spanish Banks from a Sovereign Risk Perspective – retail.pdf

A Review of the Spanish Banks from a Sovereign Risk Perspective – professional

Ireland public finances projections


Spain public finances projections_033010

UK Public Finances March 2010

Italy public finances projection

Greece Public Finances Projections

Banks exposed to Central and Eastern Europe

Greek Banking Fundamental Tear Sheet

Italian Banking Macro-Fundamental Discussion Note

Spanish Banking Macro Discussion Note
Deutsche Bank vs Postbank Review & Summary Analysis - Pro & Institutional
Deutsche Bank vs Postbank Review & Summary Analysis - Retail
Sovereign Contagion Model - Retail (961.43 kB 2010-05-04 12:32:46)
Sovereign Contagion Model - Pro & Institutional
Irish Bank Strategy Note
Euro Bank Soveregn Debt Exposure Final -Retail
Euro Bank Soveregn Debt Exposure Final - Pro & Institutional
by establishing and expanding austerity measures and reducing interest expenses. These nations include not only those faced with accelerating debt repayment obligations such as Greece, Italy, Spain, etc., but also some of the relatively better positioned countries – namely the United Kingdom and France.
In a bid to reduce accelerating debt burdens, many of these nations are selling their sovereign assets. We will probably see an even greater pool of sovereign asset sales as the futility of serially forced austerity drives the EU into a deep recession.
Even the Greek situation is just getting started, contrary to popular belief and the upcoming distress is not just CRE and RE assets that are available via fire sale, as clearly outlined two years ago in our subscriber (click here to subscribe) report


Greece Public Finances Projections see pages 5 and 6 following... (click to enlarge)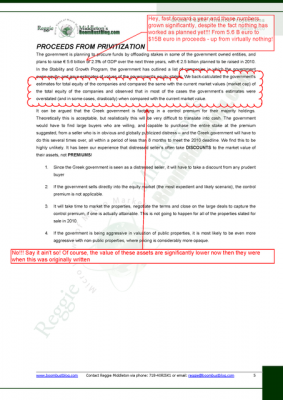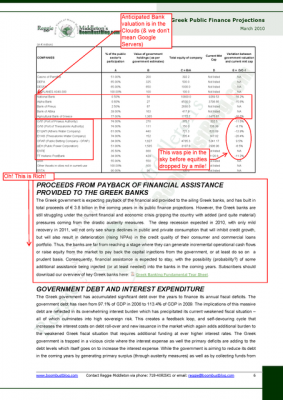 As a matter of fact, I warn those who do not subscribe to the BoomBust, this song is far, far from over... Beware The Overly Optimistic Greek Speculators As Icarus Comes Crashing Down To Earth!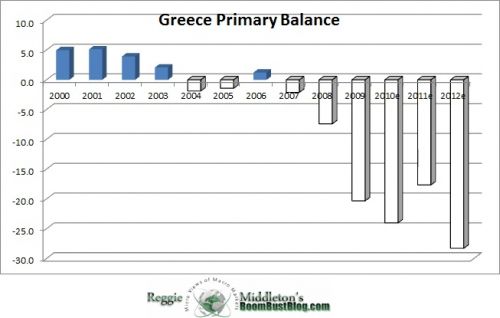 Greece is virtually guaranteed to re-default, with a structural imbalance that literally forbids the country from being able to service its debt, thereby chasing investors and bondholders with even remote access to a spreadsheet or calculator into the hills… Ne'er to return before the 720th fortnight!
It's not just in the periphery either. The core states have some stress coming their way.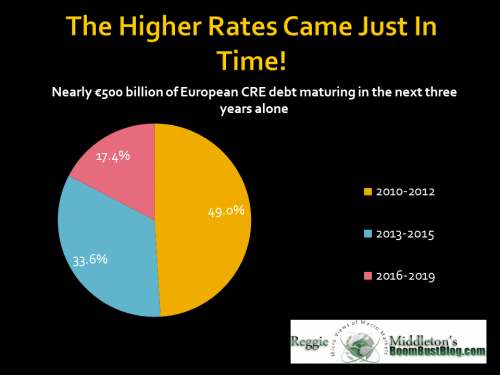 Investors seeking safety in Germany, the UK and France may truly be in for a rude awakening!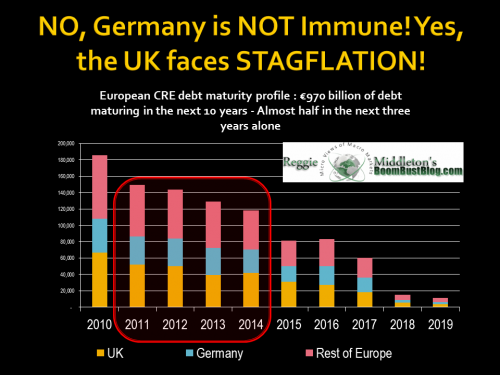 Interest rate volatility, at a bare minimum, is a given – with the potential for stagflation being the base case scenario…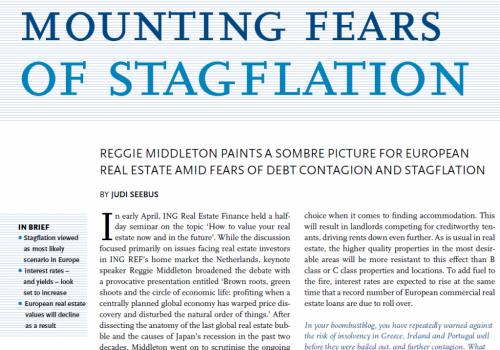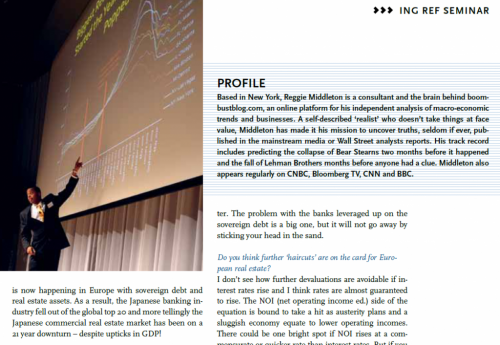 Those who wish to download the full article in PDF format can do so here: Reggie Middleton on Stagflation, Sovereign Debt and the Potential for bank Failure at the ING ACADEMY-v2.
Interestingly, Chinese corporations are increasingly interested in European assets. There have already been a number of indicators to prove that while China is not as attracted to European sovereign bonds, there's material interest in buying infrastructure assets; and interest in perceived attractively valued corporations has increased over the recent past. Seeing profitable investment opportunities, private equity firms and global leading funds have also joined in. This has created a kind of rush to search for attractively valued assets that could yield attractive returns in the years ahead. The current scenarios, as such, have been of a kind wherein too many buyers are chasing too few assets up for sale, particularly in view of the fact that countries like Italy, the United Kingdom and to a lesser extent Spain, can bargain with time - unlike Greece, to wait for fair valuation of assets before their disposal. This has created a market of buyers and sellers wherein prices for distressed assets are not being determined by fundamental valuation, but are influenced by speculation and demand-supply gap. In essence, what we have amidst this bursting of the sovereign credit bubble is a mini-distressed asset bubble.
Professional and institutional subscibers should download the full version of this document (

The BoomBustBlog Pan-European Distressed Asset Acquisition Initiative) which outlines investment opportunities in the following nation/banks: UK, Portigal, Italy, Cyprus, Greece, Ireland and Spain. Our initiative runs the gamut from whole companies and eqiuities, to real estate, infrastructure assets, rare earth and hard tangible assets to IP.
Any who are interested in hearing more about this initiative can reach me via email or phone. All others are urged to follow me through my various social media assets: