Bond Rout Continues: Bunds Rise Above 1%; 30Y "Golden Crossed"; Kuroda Sends Yen Soaring
After a Chinese session which following the MSCI failure to include Chinese stocks in its EM index, if only for the time being, was largely a dud with Shanghai stocks actually dropping by 0.1% after a late day selloff, eyes turned to Europe, which once again did not disappoint and where the bond rout continued apace, with the 10Y Bund yield spiking just after the European open, and rising above 1.05%, the widest level since September 19, before recouping some losses and trading just around 1.00% at last check.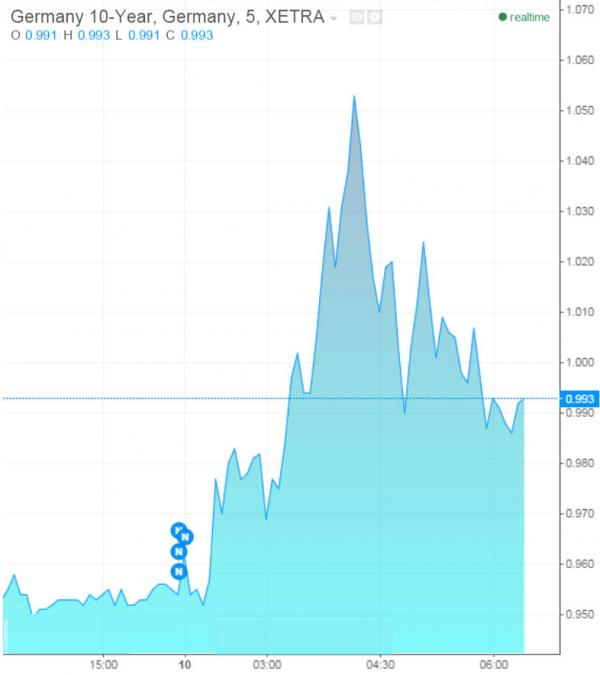 The German bond move continues to reverberate in the US, where the 30 Year bond just experienced a yield "Golden Cross" after the 50-DMA touched 2.826%, exceeding the 200-DMA at 2.824%, for the first time since March 2014. Back then the 30Y yield was about 3.60% when its 50-DMA crossed below its 200-DMA in March 2014; it declined by more than 100bps from that level, reaching record low 2.219% on Jan. 30, 2015. Not helping matters was Pimco, which as reported last night on its website, slashed its US government-related debt holdings by two-thirds, from 23.4% to 8.5%. Cited by Bloomberg, Allan von Mehren, chief analyst at Danske Bank A/S in Copenhagen said that "we are seeing a bearish sentiment in the market and we are heading for higher yields as we approach the first" Federal Reserve interest-rate increase. "All of the fundamentals are pointing in a bearish direction for the bond market. There is a reflation theme building." As a reminder, the last time Pimco took its 10Y holdings to zero back in March 2011 as first reported on this website, 5 months later Treasury yields hit record lows, after an equity rout sent investors once again scrambling for the "protection" of government debt. Deja vu time? For now however, it's this:
UST 10Y YIELD TOUCHES 2.486%, HIGHEST SINCE OCT. 1
And speaking of routs, it wasn't just Bunds - overnight during his latest (in what seems to be a daily thing now) speech before parliament, BOJ's "Peter Pan" Kuroda sent the Yen soaring after he said that it is hard to see the currency dropping more as Japan's real effective exchangerate is already very weak, adding that the yen has returned to levels it was at before collapse of Lehman Brothers. "The yen is unlikely to weaken further in real effective terms if you think with common sense, given how far it has come," he said in parliament Wednesday. The result was a prompt 200 pip plunge from the recent range in the 124 level.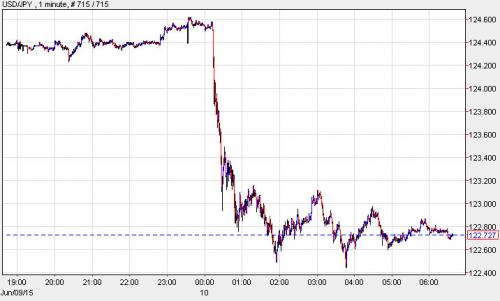 A closer look at global stocks, staring in Asia the Shanghai Comp (-0.15%) was the session laggard for a bulk of the session despite pulling off worst levels, after falling over 2.2% at one point. This was after the MSCI announced that it will defer China's A-share inclusion in its USD 5trl emerging market index, disappointing some participants. Nikkei 225 (-0.25%) fluctuated between losses and gains as price action moved in tandem with JPY moves. JGBs came under heavy selling pressure in tandem with similar price action observed yesterday across German Bunds and USTs. Despite pulling away from their worst levels, Bunds initially once again faced a heavy bout of selling pressure with theGerman 10yr yield breaking above 1.0% for the first time since 4th June. In terms of the downside this morning, fundamental newsflow has been relatively light with technical plays driving price action after Sep'15 Bund futures tripped stops through 148.87 which was the low on the 4th of June; the last time the 1.0% yield was tested. Analysts at IFR also attributed the move lower to buying of put spreads with 15,000 at 149.00/154.00 going through. From an equity standpoint, stocks have traded with no sustained direction throughout the session, with the FTSE 100 being provided some modest reprieve by UK supermarket names. On a sector breakdown, energy names lead the way afterthe sector was upgraded by HSBC pre-market, while IT names are the laggards after the bank downgraded the sector. In terms of the latest updates for Greece, according to German and Greek officials, German Chancellor Merkel, Greek PM Tsipras and French President Hollande will meet for discussions in Brussels today. Furthermore, a Greek government official has said that Greece has not yet received feedback from its creditors after submitting proposals. PIMCO announced that it lowered its US government-related holdings to 8.5% from 23.4%. (BBG) Doubleline's Gundlach said that the odds of the Fed raising rates by December is less than 50%, and less than 30% in September. (BBG) In FX as noted above, JPY soared overnight against its major counterparts in the wake of comments from BoJ Governor Kuroda, who said that the currency may not weaken any further on a real effective exchange (REER) rate basis. These comments came amid ongoing concerns of Japanese officials fretting on recent JPY weakness, with the 130.00 level in USD/JPY touted as the most likely inflection point. Consequently, major JPY pairs trade sharply lower across the board with USD/JPY down over a point, after breaking below 123.00. Elsewhere, AUD briefly weakened overnight amid jawboning from RBA Governor Stevens, who also hinted at further policy easing with an aim to maintain growth, however, losses were erased alongside the JPY-inspired weaker USD. In the commodity complex, WTI and Brent crude futures continue to remain bid in the wake of yesterday's API inventories which showed a drawdown in oil stockpiles of 6.7mln vs. Prev. build of 1.8mln. Furthermore, price action has also been supported by the weaker USD and yesterday's EIA report which pointed to a further drop in US shale output next month. Inprecious metals markets, spot gold and sport silver trade in the green alongside the softer USD with newsflow otherwise light. In summary: European shares rise with the basic resources and oil & gas sectors outperforming and tech, insurance underperforming. U.K. industrial production above ests., manufacturing production below. China doubles local government debt swap quota to ease risks. German bund yield rises above 1% on supply, signs of recovery. The Italian and Swiss markets are the best-performing larger bourses, Spanish the worst. The euro is stronger against the dollar. Japanese 10yr bond yields rise; German yields increase. Commodities gain, with corn, natural gas underperforming and WTI crude outperforming. U.S. mortgage applications, monthly budget statement due later. Market Wrap
S&P 500 futures up 0.3% to 2086.4
Stoxx 600 up 0.4% to 385.4
US 10Yr yield up 4bps to 2.48%
German 10Yr yield up 6bps to 1.01%
MSCI Asia Pacific up 0.6% to 146.9
Gold spot up 0.6% to $1184.4/oz
15 out of 19 Stoxx 600 sectors rise; basic resources, oil & gas outperform, tech, insurance underperform
Asian stocks rise with the Sensex outperforming and the Hang Seng underperforming. MSCI Asia Pacific up 0.6% to 146.9
Nikkei 225 down 0.2%, Hang Seng down 1.1%, Kospi down 0.6%, Shanghai Composite down 0.1%, ASX up 0.1%, Sensex up 1.5%
Tokio Marine Buys HCC for $7.5b in Biggest Takeover
Euro up 0.17% to $1.1302
Dollar Index down 0.42% to 94.77
Italian 10Yr yield up 8bps to 2.37%
Spanish 10Yr yield up 8bps to 2.35%
French 10Yr yield up 7bps to 1.34%
S&P GSCI Index up 1.3% to 448.4
Brent Futures up 1.7% to $66/bbl, WTI Futures up 2.1% to $61.4/bbl
LME 3m Copper up 1.4% to $6050.5/MT
LME 3m Nickel up 0.2% to $13520/MT
Wheat futures up 0.2% to 533.5 USd/bu
Bulletin headline summary from Bloomberg and RanSquawk
Despite pulling away from their worst levels, Bunds faced another bout of selling pressure with the German 10yr yield breaking above 1.0% earlier in the session
FX markets were shaken overnight with JPY strengthening against its major counterparts after BoJ Governor Kuroda said the currency may not weaken any further on a real effective exchange rate basis
Looking ahead, today sees the release of the weekly DoE data and comments from BoE Governor Carney at his Mansion House speech with text to be released at 1700BST/1100CDT
Treasuries decline as rout in EGBs continues, 10Y bund above 1% for first time since Sept; U.S. auctions $21b 10Y notes in reopening today; WI yield 2.475%, highest since Sept., vs 2.237% in May
Talks between Greece and its creditors this week have failed to make progress after Greece submitted a budget-deficit plan that creditors considered unfit, according to two officials
With Greece's safety net expiring on June 30, Tsipras aims to meet Merkel and Hollande on the sidelines of a summit today; Merkel still hadn't decided whether to attend, according to a German government official
A growing number of German lawmakers plans to break with Merkel and vote against another Greek aid package, Bild reported, not saying where it obtained the information
Economists see almost a 40% chance that the Fed will delay a rate increase beyond September if jobs gains stumble or inflation fails to move higher, according to a Bloomberg survey
The yen surged after BoJ's Kuroda said it was hard to see his nation's currency falling further
PBOC researchers lead by chief economist Ma Jun cut forecast for China FY GDP growth to 7% from 7.1%, according to research report posted on the central bank's website Monday
The Justice Department has begun an examination of trading in the U.S. Treasury market, with investigators said to be probing whether information is being shared improperly by financial institutions
The Pentagon is preparing recommendations to send hundreds more U.S. troops to Iraq to speed training of the country's military forces in response to a request from the White House, two U.S. officials said
Despite nine months and $2.44b in U.S. airstrikes against the fighters and their oil facilities and smuggling networks, Islamic State has proven to be as resilient financially as it's been militarily
The vulnerable Baltic nations, which have been nervously watching Russia's aggression against Ukraine, have reason to worry about whether they can count on their NATO allies
Sovereign 10Y bond yields higher. Asian stocks mixed, European stocks gain, U.S. equity-index futures gain. Crude oil, copper and gold higher
US Event Calendar
7:00am: MBA Mortgage Applications, June 5 (prior -7.6%)
2:00pm: Monthly Budget Statement, May, est -$97.5b (prior -$129.971b)
1:00pm: U.S. to sell $21b 10Y notes in reopening
DB's Jim Reid as usual completes the overnight event wrap It all feels like a low key version of the taper tantrum at the moment as markets generally feel soft. Core bond markets yields continue to edge relentlessly higher, European equities are into correction territory (DAX down 11.1% from April 10th peak) and US equities have been stuck in a low range all year and are only just in positive territory in 2015 (Dow lower YTD). Elsewhere EM (ex-China equities) is in defensive mode while EM bonds are worried about outflows gathering pace, Euro IG credit has moved from cycle tights a few weeks back to hovering around 12 month wides now, with US IG slowly creeping towards the wides of January and we've even started to see a bit of concern about HY which has so far been one of the out-performers in this recent softness in assets across the board. Bloomberg focused on the fact that certain HY ETFs have seen outflows pick up recently. Interestingly, oil has probably been the best behaved asset class, WTI in particularly more or less at the same level versus May 1st. So the slippage in asset performance is one to watch and is probably tied to the bond market sell-off. The FOMC with all its projections and possible rhetoric change is going to be a key focus next week. China is proving to be the exception to the above with the Shanghai Comp and Shenzen +10.25% and +8.25% MTD so far, having risen +3.83% and +23.17% in the month of May respectively as record margin debt and stimulus measures supported a surge in demand for the asset class. Late last night we heard that the MSCI has deferred the decision to add China's A-Shares to its indices given certain market-access and share ownership issues. The index provider did seemingly suggest that an inclusion in the future is likely however once the obstacle is overcome and said that a decision may come at any time. The Shanghai Comp (-0.45%) has fallen following the news, although it did pare losses of as much as 2.2% on the open. The Shenzen (+1.24%) has completely recovered earlier losses meanwhile. In Japan the Nikkei (+0.03%) has given up earlier gains made following a better than expected PPI print (+0.3% mom vs. +0.2% expected) after BoJ Governor Kuroda said that it is hard to see the Yen falling further given that the real effective exchange rate is already very weak. The Yen has strengthened 1.1% (vs. the Dollar) to ¥122.99 following the comments. Markets elsewhere are generally mixed. The Hang Seng (+0.21%) and ASX (+0.06%) are both higher while the Kospi (-0.66%) has fallen. Bond markets have followed much of yesterday's sell off with yields generally 3-5bps across the bulk of the Asia region. 10y Treasuries are +0.6bps higher in yield at 2.444%. The Greek saga rumbles on and yesterday we heard that the Greek government had submitted two supplementary reform proposals to its Creditors, focusing on the fiscal gap and also a plan for making the country's debt sustainable. Once again European officials appear to have pushed back on the latest proposals with the EC's Dombrovskis, Eurogroup President Dijsselbloem and Finnish PM Stubb all expressing concerns over the latest measures, while the FT ran a story saying that the mood of the cautious optimism of the last few weeks is rapidly giving way to 'fear and suspicion', suggesting that Athens is intentionally prolonging negotiations to the last minute in belief that creditors may well agree to grant wholesale debt relief. Worryingly, Greek press Ekathimerini reported PM Tsipras as saying that an accord would be possible if Creditors dropped pension cut demands, highlighting that large gaps are still very much present between the two sides. Focus today will be on the ECB's review of the ELA facility, as well as a potential meeting between PM Tsipras, German Chancellor Merkel and French PM Hollande on the sidelines of the Brussels summit. With hopes that the meeting may result in taking an important step forward, the Eurogroup's Dijsselbloem has warned that the meeting is not certain to go ahead yet, noting that technical teams are reviewing Greece's latest proposals 'and then we can see whether it can take place'. Back to markets, moves in rates characterized the bulk of price action yet again yesterday as we saw core markets strike fresh new highs in yield. Indeed, 10y US Treasuries finished the day 5.6bps higher in yield at 2.439% and more or less at its highs for the day. The move means the 10y benchmark is now +31.7bps higher in yield through June already and now at the highest level since September 30th last year. There were some significant moves in Bunds also as the 10y yield closed +7.1bps higher at 0.947%, +46.3bps MTD and the highest yield since September 30th too. There were similar moves for other core European bond markets, while the peripherals were the notable outperformer yesterday as Spain (+2.3bps), Italy (+2.9bps) and Portugal (+1.2bps) saw relatively modest moves all things considered. Greek 10y yields meanwhile finished 18bps wider at 11.088%. Yesterday's moves appear to have been contributed to a combination of factors including solid US data, a rally in oil markets and also concerns around the heavy supply of both Treasuries and corporate issuance expected this week. Further volatility in rates markets as well as the Greece saga has kept equity markets in check as yesterday we saw the Stoxx 600 (-0.39%) and DAX (-0.58%) fall further, although in reality most bourses had opened weaker on the back of a soft Asian session. In the US the S&P 500 (+0.04%) and Dow (-0.01%) finished more or less unchanged having bounced about for most of the session. The moves in rates didn't help utility stocks (-0.15%) while higher Beta technology stocks (-0.19%) also suffered. Interestingly energy (-0.05) names were fairly unmoved despite both WTI (+3.44%) and Brent (+3.49%) rising to $60.14/bbl and $64.88/bbl respectively after finding support from the latest EIA report which shows output from US shale oil producers is expected to fall through July to the lowest level since January. In terms of the data yesterday, the May NFIB small business optimism survey rose 1.4pts to 98.3, ahead of market expectations of 97.2 and back to the highest level since December while the details showed a positive trend in wage growth. April's wholesale inventories (+0.4% mom vs. +0.2% expected) and trade sales (+1.6% mom vs. +0.6% expected) were also encouraging, particularly in the context of Q2 GDP expectations. April's JOLTS job openings data meanwhile came in above market (5.376m vs. 5.044m) and at a 14-year high, although a fall for both the hiring (3.5% from 3.6% in March) and quits rates (1.9% from 2.0%) did generate some modest disappointment. Meanwhile, yesterday's 3y Treasury auction saw investors demand the highest yield (1.125%) since April 2011, at a bid to cover ratio of 3.33x – relatively consistent with what we've seen so far this year. A 10y auction is due today followed by a 30y auction on Thursday which could keep rates markets on its toes. Despite the move higher in yields yesterday, the Dollar index ended 0.14% lower. There was some movement in Fed funds contracts however as Dec15, 16 and 17 contracts ended +0.5bps, +3bps and +4bps while a Bloomberg survey conducted last night showed that Economists see a roughly 40% chance that the Fed will delay liftoff beyond September this year (with a 50% probability that they will move in September). With timing still uncertain, along with the fairly mixed Fedspeak contributing to the debate, next week's FOMC meeting will be a very closely watched affair. There wasn't a whole lot to report with regards to European data flow yesterday. The provisional Q1 GDP report for the Euro area was as expected at +0.4% qoq and +1.0% yoy. UK trade data meanwhile showed a narrowing of the deficit (£8.56bn vs. £9.95bn expected) in April, marking a better start to the quarter. Elsewhere, the ECB's Liikanen noted that the ECB's QE program will run longer than September 2016 if needs be and that officials at the last monetary policy meeting were 'unanimous' in looking through the recent reversal in financing conditions and agreed on the need for maintaining a steady monetary policy. Looking at today's calendar now, French and UK industrial and manufacturing production reports will be the main highlight this morning, while Italian industrial production is also due. It's quiet in the US this afternoon meanwhile with just the May monthly budget statement due. Of course Greece will continue to remain much of a focus for markets and the potential meeting between Tsipras, Merkel and Hollande.