Blockbuster auction winner is DISH Network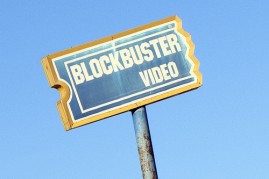 And the winner is … DISH Network. Early this morning, the satellite-TV company emerged as the winner of the auction for bankrupt video chain Blockbuster with a bid of $320 million. DISH beat out liquidators, a consortium of creditors, a group led by Blockbuster investor Carl Icahn, and a South Korean telecommunication firm. DISH Network says it expects to ultimately pay about $228 million in cash for Blockbuster (after adjustments).
The sale to DISH is a reprieve of sorts for the nation's #1 video rental chain, which filed for bankruptcy in September with 5,600 stores, including 3,300 in the U.S. A victim of competition from rivals including Redbox (known for its $1 rentals), Netflix, and video-on-demand services, Blockbuster has been shuttering stores at a rapid pace. (Two of the three locations near my house in Austin have closed in recent months. The atmosphere at the remaining Blockbuster store is positively funereal!) Had the company gone to any of the other bidders, it would have likely closed more or even all of its remaining stores.
So what does DISH get for its $228 million? In a press release (read here) announcing the deal a DISH executive cited Blockbuster's "more than 1,700 locations, highly recognizable brand and multiple methods of delivery," as among the company's attributes. He also alluded to "cross-marketing and service extension opportunities for DISH." The remaining video stores will give the satellite operator a bricks-and-mortar retail presence from which it can sell its TV and other services. And while it came too late to save Blockbuster, the company had made progress in its transition from a store-based distribution system to a multi-channel model that offered rentals by mail, vending, and digital download.
DISH has some experience buying companies out of bankruptcy. Just last month it agreed to buy the equity of DBSD North America for about $1.4 billion once DBSD emerges from bankruptcy (filed in 2009). DISH's chief executive Charlie Ergen has amassed significant holdings in DBSD and another bankrupt satellite operator, TerreStar Networks, by buying debt that potentially converts into equity.
The deal, which is expected to close by mid-year, requires approval from the bankruptcy court.
~
Photo by trebomb, used under a Creative Commons license.