Blizzard Boredom Leads to Increase in Petraeus/POTUS Speculation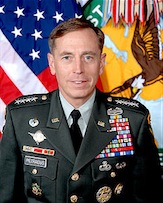 Paul Bedard at US News gets into some Petraeus speculation:
The buzz meter on Iraq-Afghanistan war boss Gen. David Petraeus running for the 2012 Republican presidential nomination is redlining. Just named one of Foreign Policy magazine's "Top 100 Global Thinkers," Petraeus, Whispers hears, has been selected to receive the 2010 Irving Kristol Award for public leadership from the American Enterprise Institute, and he's slated to give a lecture May 6 that center-right activists are eagerly awaiting. "He is Webster's definition of a true dark horse," says a conservative and former Bushie. Petraeus, however, hasn't expressed any interest in running against President Obama.
There are so many holes in this notion that it's hard to even know where to begin. But for starters, if I'm a conservative activist one thing I'm looking for in a presidential candidate is that he needs to be a conservative. Most military officers are quite right-wing politically (the rank-and-file are much more liberal) but Petraeus hasn't had a typical career and nobody has any specific information about his views. Second, when Public Policy Polling floated the idea they found that people like Petraeus but don't want him to be president:
Finally our blog readers voted for David Petraeus as our wild card Republican this month and his numbers come out as a mixed bag. He has the largest deficit against Obama, trailing 44-34. But at +13 his net favorability is better than the President or any of the other Republicans we tested.
Of course one reason his net favorable rating is so high is that he's not an avowed Republican and hasn't been attacked by Democrats the way a partisan political candidate would be. And even in the absence of such attacks he polls terribly as a candidate. This should be no surprise, of course, because far-and-away the biggest issue on people's minds is the state of the economy and the labor market and what on earth does General Petraeus know about that?