Bipartisan processes that don't lead to bipartisan votes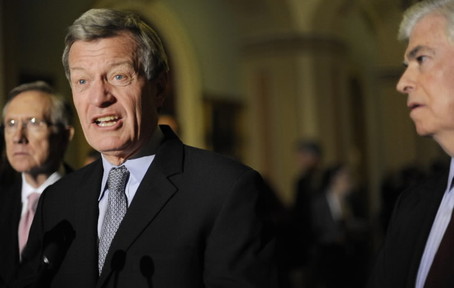 One of the most important, but hardest to convey, realities of the legislative process right now is that we're seeing much more substantive bipartisanship even as we're getting much fewer bipartisan votes. Financial regulation is a good example: Chris Dodd's legislative proposal is worlds away from the muscular vision of his first draft. Those changes were mostly at the behest of Tennessee's Bob Corker. As Corker said, "this last month" -- when Corker was negotiating with Dodd -- "has helped produce a far better product."
But will Corker support that product? Well, no.
Same goes for health-care reform. The final Senate bill was a lot closer to the Gang of Six's bill -- the one that Olympia Snowe voted for in committee -- than to the House or HELP Committee's bills. But will Snowe, Grassley, Enzi, or any other Senate Republican vote for the bill? Well, no.
Republicans aren't just getting some technical amendments passed into these proposals. They're helping to design the entire architecture. They're securing long negotiation processes that give them much more input than your median committee Democrat. And then they're abandoning the final draft. The underlying dynamic here is pretty simple: Because so few Republicans are willing to be bipartisan, there's no competition from other Republicans to be the guy with the commemorative pen when the bill is signed. That means that it's harder for the Democrat to walk from one Republican and find someone else, which in turn means the Republican they are negotiating with has a lot more leverage.
The result has been final, partisan products that are much more compromised then their bipartisan predecessors. Medicare got a dozen or so Republican votes and was a single-payer health-care system. The post-New Deal financial regulations were also more bipartisan, and were also much more aggressive than what Dodd is proposing. But the Democrats behind these compromised pieces of legislation don't get any credit for compromising. Instead, they just get hammered for all the weaknesses in the bill -- weaknesses that were added to secure Republican support that never materialized.
The interesting question is why Democrats don't toss out their compromises when they lose their potential co-sponsors. The answer, I think, is a mixture of conservative Democrats and industry, but it's hard for them to explain that.
Photo credit: Melina Mara/The Washington Post.