Better Rail Service Coming To The Part Of The Country That Values Good Rail Service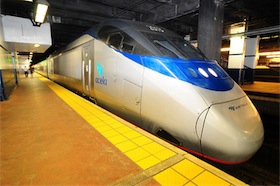 I'm glad to see that the absurd culture war over the Obama administration's relatively minor high-speed rail funding initiative has reached its logical conclusion, a healthy chunk of the money Governor Rick Scott doesn't want for Florida is going instead for track improvements in the Northeast where, as Kate Sheppard tells us, elected officials are cheering.
That sounds great to me. There's a strong case for more investment in passenger rail in the United States. And there's a strong case for federal involvement in that investment. And there's a case for doing it places other than the northeast. But passenger rail is necessarily a primarily regional kind of thing, and it needs to be in some sense led and initiated by people who welcome it. California seems to have a mass of voters and elected officials who want a regional passenger rail corridor and the kind of development patterns that entails. I think that if elected officials in Texas and Florida were smart, they'd also want that. But it seems like they don't. Here in the northeast we have a lot of rail-focused development patterns and we have a pretty robust passenger rail network. But Amtrak's Northeast Corridor service is sort of laughably primitive compared to a major corridor in Europe or Asia, so upgrades are welcome. I'd also be very interested in new projects that build on the existing Northeast Corridor—better service from DC down to Richmond, and from Pittsburgh to Philadelphia and DC, possibly Boston to Portland.
The conservative governors who've rejected HSR funding are, I think, making a mistake for their states. But their fanaticism is sort of doing the country a favor. The worst possible outcome would be for regional political elites who don't actually want rail infrastructure to say "yes" anyway for the short-term fiscal boost and then squander it. Intercity transportation investments only work if there's followup work on intracity transportation and land use.