Beijing's New Challenge: China's Post-Crisis Housing Bubble
Carnegie Endowment submits: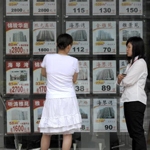 Facing an overheating economy and a growing bubble in residential property markets, China began to tighten monetary policy in early 2010. If Beijing can effectively cool down the speculative demand for housing, the uncontrolled collapse of the bubble is unlikely. Nonetheless, Pieter Bottelier warns that China must continue to be wary of the potentially destabilizing social consequences associated with increasingly unaffordable housing.
China's residential property bubble (concentrated in major eastern cities) is mainly the result of excessive domestic credit expansion in 2009. Contributing factors are significant "hot money" inflows from abroad, low (government mandated) bank deposit rates, a widespread property speculation mania, corruption, and incentives for local governments to drive up land prices to augment local fiscal revenues.
Beijing is keenly aware of the associated risks and is determined to control the property bubble. The central bank has begun to tighten monetary policy, but cautiously, so as not to kill recovery in the broader economy. Around the middle of April 2010, the State Council (China's Cabinet) introduced tough administrative measures aimed at curbing property speculation—mainly by reducing credit availability and increasing its cost—and announced plans to significantly increase housing supply, especially at the lower end of the market.
China does not share Alan Greenspan's pre-subprime crisis view that financial regulators cannot recognize a bubble, are unable to effectively control one if they see one, and that it is easier to clean up the mess after it has burst than to deflate a bubble.
Given the central government's apparent political will to control the bubble and the considerable arsenal of policy tools at its disposal, a "soft landing" is unlikely. If Beijing can keep the bubble within bounds, it is likely that an uncontrolled meltdown will be avoided, though a market correction (of 20–30 percent on average) over the next 3–12 months is likely.
Social issues associated with China's property bubble are at this point as or more compelling than financial issues. Housing affordability for first-time home buyers in major eastern cities has become a major social and political issue. It is a source of potentially destabilizing public discontent, even if the property bubble can be controlled.