Beer brand Natty Light is giving away $1 million to pay off student loans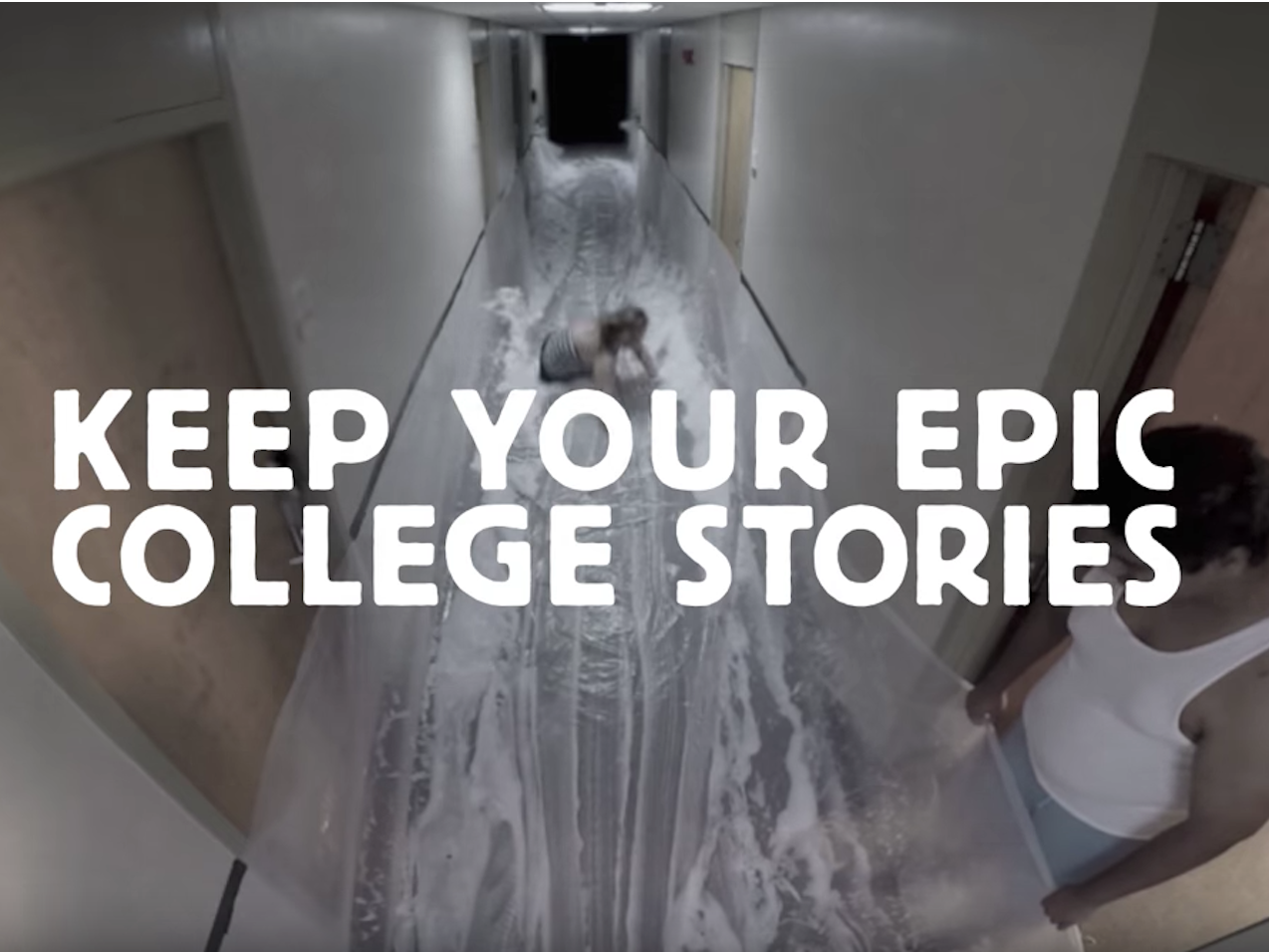 Natural Light/YouTube
Beer brand Natural Light is giving away $1 million to winners of a video contest to help students and recent graduates pay down student loans.
Actor Jake Johnson is teaming up with Natty Light because he feels that students shouldn't have to worry about money.
A television ad promoting the contest will air during the Super Bowl in 10 markets with many college-educated people in debt.

This year, drinking beer during the Super Bowl can give you more than a buzz. In fact, you could be a big winner.
Americans currently have a total of $1.56 trillion in student debt, but one company is offering to reduce the financial burden on those with college degrees.
A Natural Light ad that will air during the big game announces a promotion that gives away $1 million to relieve loans from college. Natty Light, as the beer is called, will give 25 winners of a video competition $40,000 each to help pay off college debts.
Participants can enter the contest by submitting a video about their inspiration for attending college — featuring the green money tab found on the top of Natty Light cans from limited edition 36-packs — on social media using the hashtags #NattyStories and #Contest.
Chelsea Phillips, VP of Value Brands at Anheuser-Busch, told Business Insider that 45 million Americans have student loans, with the average debt exceeding $30,000 and more people than ever are defaulting on payments.
Youtube Embed:http://www.youtube.com/embed/wLPQWvnGgV4Width: 560pxHeight: 315px
Actor Jake Johnson — known for his role as Nick on "New Girl" — partnered with Natty Light on this campaign.
Johnson encourages people entering the contest to show their voice, use humor, and make clear why they should be chosen. Johnson has a "why not?" attitude about entering.
Students can "get out of debt, see if you could get lucky," he told Business Insider.
Johnson reminisced about his own college experiences of turning his backyard into a Wiffle ball field and writing in the corner of his house designated for creative types. "We were trying to figure out what we wanted to do with our lives," he said about himself and his friends in college.
Before college, Johnson dropped out of high school for a year. His experience as a drop-out was much different than his expectations and he quickly wanted to return to school.
"Finish, just finish," Johnson advises any student who is thinking of terminating their studies.
Johnson spent his first two years of college at the University of Iowa before transferring to NYU.

courtesy of Saatchi
The 30-second spot will appear in 10 markets with large universities and a high concentration of college students and recent graduates. The contest is not restricted to residents or students of these areas.
The ad aims for a sense of nostalgia for college years with the theme from "Dawson's Creek" playing in the background.
The 10 markets where the ad will play during the Super Bowl are:
Johnstown, Pennsylvania
Dayton, Ohio
Lexington, Kentucky
Madison, Wisconsin
Columbia/Jefferson City, Missouri
Columbus/Tupelo, Mississippi
Montgomery, Alabama
Kansas City, Kansas
Cincinnati, Ohio
Pittsburgh, Pennsylvania

Matthew Michaels/Business Insider
Natural Light is brewed by Anheuser-Busch InBev — the largest brewer in the world and producer of Budweiser, Stella Artois, Michelob, and Rolling Rock. Budweiser is closely associated with Super Bowl ads thanks to its yearly Clydesdale commercial and a one-time appearance from a trio of frogs.
The Super Bowl will air on NBC Sunday, February 4 at 6:30 p.m.NOW WATCH: What 'Dilly Dilly' means — and how Bud Light came up with its viral campaign