Bank of Canada catches markets unaware, despite years of preaching transparency
The heady world of high finance is in a full-blown snit.
It all started when Switzerland's central bank flip-flopped last week on what appeared to be an iron-clad three-year-old cap on a currency peg against the ailing euro. Denmark responded quickly by cutting its key interest rate to prevent the krone from strengthening as a result. Wednesday, the Bank of Canada — long the darling among central bankers in the post-financial crisis world – followed  with a quarter-point rate cut which caught global markets completely flat-footed.
All these sudden central bank moves to loosen their monetary policies were greeted with surprise, shock, even horror by market players. Have the big brains that populate the vaunted world of macro-economics gone mad? What ever happened to forward guidance?
All over the world, unprepared fixed-income money managers and strategists who helplessly watched the bloodbath griped bitterly about how centrals banks were becoming "impotent" and "inconsistent," and how "by acting in their own interests," they were increasing volatility going forward.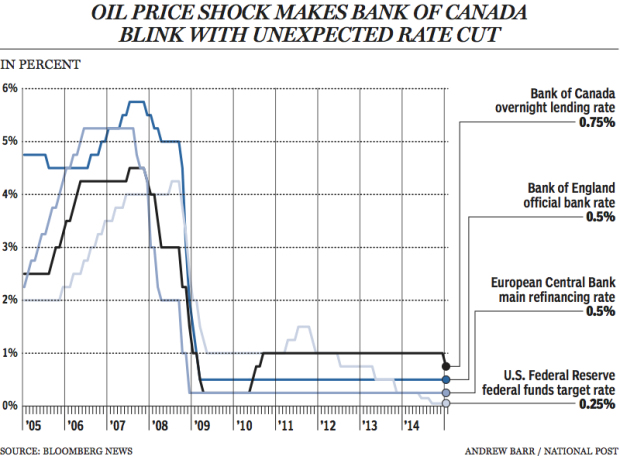 After years of preaching and practicing transparency in their policies and procedures, a mystique persists around central bankers. In fact, since the financial crisis of 2008, their stock has spiked immeasurably because they are largely credited for saving the world from the abyss. Thus, most of what they say takes on the patina of great significance, witness the worldwide media coverage of central bank meetings and dispatches.
In most cases, the Bank of Canada's 25-basis point reduction in the overnight rate for six weeks — the first cut by any major G8 industrialized nation in response to plunging oil prices — would barely register in GDP growth and inflation models. However, in this hypersensitive world, where markets hang on every central bank utterance, it became hugely material.
"Part of the reaction is that people fear the Bank of Canada looked into its crystal ball and knows things we don't know," said William Robson, president and chief executive officer at the C.D. Howe Institute in Toronto.
Mr. Robson didn't see the rate coming either, although after reading the central bank's monetary policy report for January 2015 "from stem to stern" he admits the warnings were in plain sight. Unlike the Swiss, Canada's central bank targets inflation and that's what guides monetary policy and in its recent offering, the Bank of Canada signalled that if the policy rate was going to move, it was going to move down, Mr. Robson said.
In fact, that's what deputy governor Timothy Lane told an American crowd in Wisconsin eight days ago. On January 13 he said that Canada's economic recovery was being challenged by low oil prices because the oil and gas sector accounts for 3% of Canada's GDP. According to a Canadian Press report, the deputy governor also told the audience that Canada's central bank would "closely monitor the immediate yet temporary negative impact on total inflation, as well as its broader effects on growth and how it could delay Canada's return to its full economic health."
"We will continue to work to bring the Canadian economy back to its potential and return inflation sustainably to our 2% target," Mr. Lane said. "However things play out, we have the tools to respond."
Related

Andrew Coyne: After Bank of Canada rate cut we are all a little poorer (and why that's a good thing)
With Bank of Canada rate cut, sub-2% mortgages are coming to a bank near you
In hindsight, it's a remarkable trove of information from the central bank, given that Bank of Canada governor Stephen Poloz isn't a fan of dropping crumbs along the way before announcing decisions. However, in response to the seismic reaction to the rate cut, he admitted "we generally prefer that markets not be surprised by what we do." Speaking to reporters on Wednesday, Mr. Poloz added that "transparency around our analysis of the economy will minimize the scope for surprises. In that respect, we took comfort from the observation that the consequences of the drop in oil prices appear to be well understood, and that the possibility of a rate cut had begun to enter markets in the last couple of weeks."
Read between the lines. The Bank of Canada governor has spoken of the problem with forward guidance before. Now he's saying 'get used to it folks, there will be no spoon-feeding.' And who could blame him? Providing general guidance to the markets creates expectations that likely constrain central banks to doing only those things the markets have come to expect. That creates an echo chamber, and Mr. Robson says that's potentially problematic. "It can paralyze policy and make central bankers reluctant to do necessary things out of fear of surprising markets. If they are hypersensitive to what the market is thinking, it's not helpful to their decision making."
Not to mention that it makes for a complacent marketplace. If nothing else, the Bank of Canada's latest move illustrates that maybe everyone has become a bit too comfortable with the arrangement and forgot that guidance is but a tool that is conditional and subject to change. Maybe he wasn't trying, but Mr. Poloz may have driven home his message at last.
Financial Post
• Email: ttedesco@nationalpost.com | Twitter: @tedescott