Bachmannia and the 2012 Nomination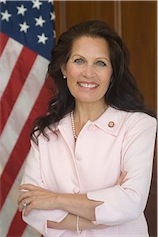 Suzy Khimm argued at some length on Friday that we ought to take a Michele Bachmann presidential candidacy more seriously than a Sarah Palin one. The key point is that despite her bonkers persona, Bachmann is also a real politician with real organization skills and ability to play the national media. Then Monday it came out that Bachmann has hired Mike Huckabee's former Iowa political director, which certainly has to be viewed as a credible step toward victory in the caucuses.
Josh Marshall comments that Bachmann can't possibly win the nomination, but winning in Iowa could force the likes of Tim Pawlenty out of the race. Maybe so. It seems to me that good news for Bachmann essentially amounts to good news for Mitt Romney. Romney has a lot of problems, but he also has a solid operation, a fair amount of elite support, and huge fundraising potential. He doesn't need to win in Iowa. And if Iowa establishes Bachmann rather than Pawlenty as his main rival, then suddenly the stage is set for establishment types everywhere to rally 'round him as the sensible alternative.