Attawapiskat audit shows questionable spending practices after receiving more than $100 million in federal funding in six years
OTTAWA — The financial management at a northern Ontario's First Nations community has come under increasing scrutiny, following the publication of an audit showing a lack of documentation and questionable spending practices – including under the helm of the band's chief who has gained international attention for a hunger strike.
The issues identified in the audit of the Attawapiskat First Nation are only the latest in a series of problematic accounting practices at the northern Ontario community, problems Chief Theresa Spence has been warned about in previous audits.
Those warnings were also shared with the federal department charged with overseeing how more than $100 million in federal dollars have flowed to the community for the past six years.
News of the audit comes days before Prime Minister Stephen Harper is to meet with native chiefs from the Assembly of First Nations, and as Spence continues to receive widespread attention for her vow since Dec. 11 to go without solid food at least until such a meeting takes place.
It is also raises a host of uncomfortable questions for Spence, who has become the public face of aboriginal activism such as Idle No More, though its founders have tried to distance the grassroots movement from her and the traditional power structures that have dominated Crown-First Nations relations.
Related

Between April 1, 2005 and Nov. 30, 2011, about $104 million in total funding was provided to Attawapiskat. About $8.3 million of that was for housing, including $6.85 million for housing maintenance, $1 million for housing needs immediately and $450,000 for housing renovations under federal stimulus spending.
Despite repeated warnings from auditors that the band had failed to provide supporting documentation for spending in many instances, it appears the band didn't make any changes to how it kept its books, according to letters from accountants released to Postmedia News under the access to information law.
Audit notes from 2009, 2010 and 2011 audits show that when accountants asked for an explanation, "often, none could be provided."
Over the same time period, audits also found that payroll cheques were being printed without proper oversight from the band council and that the senior officials on the reserve failed to even set a yearly budget.
The latest audit – just made public – found that going back to April 1, 2005, the band council didn't properly prepare budgets, keep minutes to support band council resolutions, had "incomplete, insufficient, and inaccurate bookkeeping," made "expenditures … without the available funds" and "journal entries were made with no supporting documentation." The auditors also questioned numerous entries in band council books, such as a May 2, 2011 donation of $10,000 and more than $1.1 million in August 2009 to buy "buildings" with no supporting documentation.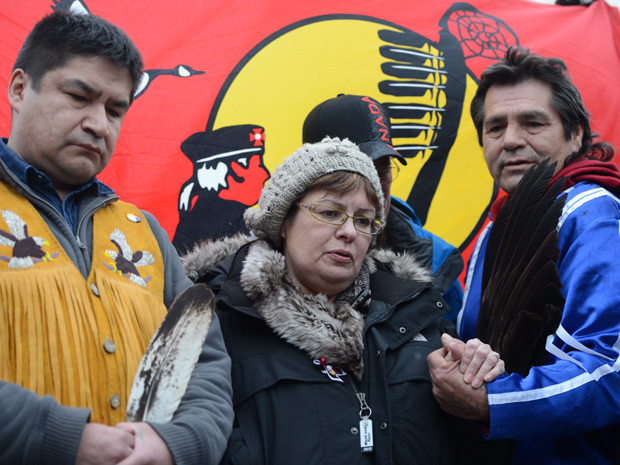 THE CANADIAN PRESS/Sean KilpatrickAttawapiskat Chief Theresa Spence holds hands with fellow hunger striker Jean Socks as she stands beside supporter Danny Metatawabin during a press conference outside her teepee on Victoria Island in Ottawa on Friday, January 4, 2013.
The band council was also warned repeatedly about the housing situation on the reserve, with Health Canada inspections going back to 2010 showing mould and substandard housing for several families in the remote community north of Timmins, Ont. When Attawapiskat was thrust into the national spotlight in late 2011 for its housing crisis, a Health Canada official noted the band had done a "relatively poor job" addressing recommendations from health inspectors.
"It seems the band has done a relatively poor job of addressing recommendations made in our letters. Case in point — families are still living in 'condemned' homes years after the fact. Whether that's because of funding or other considerations, I can't really say," reads a Nov. 30, 2011 Health Canada email, released to Postmedia News under the access to information law.
In February, 22 modular housing units arrived in the community at a cost of $2.5 million for construction and transport.