Ask Not What Your Country Could Do To Reduce Health Care Costs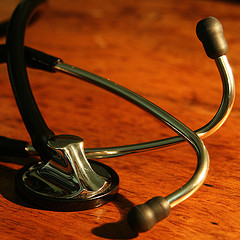 As a fan of the school nurse I think there's a lot to be said in favor of Paul Krugman's idea of launching a government administered public health service (or "civilian VA" as he puts it) but I also think it's a bit of a misframing to put these ideas in the context of reducing health care costs.
To the best of my knowledge, the only really reliable way to reduce public expenditures on health care services is to cap public expenditures on health care services. The way most government programs work, whether they're "mandatory" or "discretionary" is to provide for a certain amount of money and then the money gets spent. This is true both domestically and internationally. The Montgomery County Public Schools or Nova Scotia Medicare or the United States Navy has a certain budget, and then it tries to spend that budget on delivering services. American Medicare is different. It has a menu of services that it will pay for, plus a list of prices that it's willing to pay, plus a list of people who are eligible for coverage, and then it pays whatever the total consumption of services costs.
The original Ryan-Rivlin proposal controls Medicare costs by capping Medicare spending. Paul Ryan's new "Road to Prosperity" controls Medicare costs by capping Medicare spending, this time with a more severe cap. Then, separately, Ryan-Rivlin also proposes restructuring Medicare and the "Road to Prosperity" proposes restructuring it in a different way. But the restructurings don't save money, the hard cap is doing all the work in reducing expenditures. That's not necessarily a bad feature of these plans (though the Road to Prosperity cap is laughably stingy), it's actually a pretty standard way of doing budgeting.
But how we should structure Medicare is a different question from what cap, if any, should be applied to overall Medicare spending. It's like the difference between "how much should the town spend on the library?" and "should the library spend its money on new books, or facilities upgrades, or internet terminals or what?" One is a question about spending levels, and the other is a question about effective service delivery. What Krugman is proposing (and I agree) is that adding a more robust government-run element to the system would be a way of providing health care services to people in a cost effective way. I agree with that and I think there's a ton of evidence to that effect. Whether increased cost-effectiveness of service delivery would reduce overall spending over the long-term seems to me to be highly unpredictable. The total volume of Medicare costs is going to be like the total volume of FBI costs—we'll spend as much as Congress chooses to spend. Coming up with more cost effective ways to do the FBI's job might reduce FBI costs, or it might increase FBI costs if we decide that the new more awesome FBI is worth investing more in. Or if you look at the Army, I'd say that we spend too much money on it. But it's not an inefficient Army, it's a fantastic Army. The best Army in the world by a large margin. That's just a separate issue from whether it makes sense as an overall social priority to spend so much on it.