Apple Inc. Outperforms PC Market: IDC
Apple Inc. (NASDAQ:AAPL) has had an excellent year due to the popularity of the iPhone 6 and iPhone 6 Plus, which saw the company make a 40% gain on its stock price, based on higher-than-expected earnings and record sales for its flagship phone.
However, this is not the only area where the tech giant has enjoyed success in 2014. Based on IDC's research, Apple has also cemented its position as one of the leading PC manufacturers across the world. Apple outperformed the PC market, which exhibited very small gains, pushing out only a 1% overall increase in hardware.
Based on the numbers provided, IDC points to the fact that there has been a 2.1% decline in net PC sales over the last year; major PC manufacturers made significant gains as the market contracted around smaller PC hardware makers. However, the largest gainer was Apple, which saw its iMac, Mac Pro, Macbook, and Mac mini enjoy commercial success and market growth. IDC claims that the gain was due to improved demand in major mature markets and price cuts that made Apples devices, which are widely considered premium products, more competitive and attractive to new consumers. This is because Apple has begun a bid to reduce the cost of entry into its ecosystem for consumers, as software revenues grow and it attempts to grow and stabilize its software revenue base in the light of record App Store sales.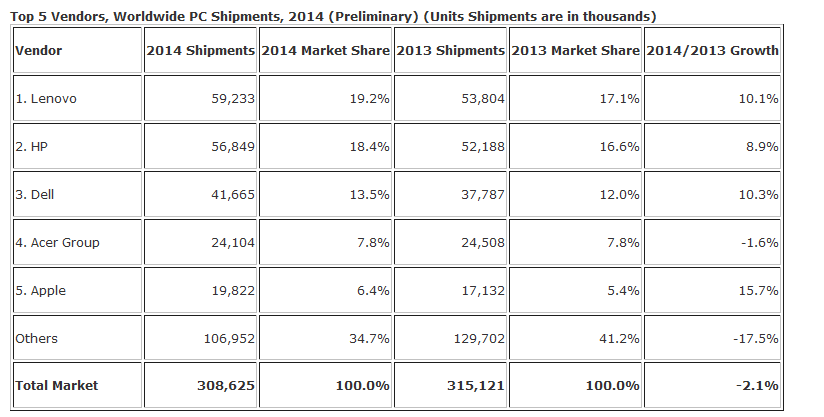 http://i.imgur.com/GhQkrl1.png
IDC stated: "Apple kept the number 5 position on a worldwide basis, maintaining its lead over ASUS. The company's steady growth, along with recent price cuts and improved demand in mature markets has helped it to consistently outgrow the market."
This has allowed Apple to gain significant market share; it has gained 15.7% in worldwide PC sales and 11.4% in the US market, respectively. While Apple has consolidated its fifth position in the world market, it remains third by a large margin in the US, with a 12.2% market share. This puts the Cupertino-based company in an extremely strong position in the worldwide PC market and means that OS X is likely to control more market share in the future. Demand is derived by the fact that publishers and programmers for iOS devices now need a Mac device to program for the mobile device platform; Apple's devices are also relatively less effected by market contractions.
However, Apple has made lesser headway in the US market in terms of gains. Part of this could be due to the fact that it already holds a relatively dominant position in that market; another reason could be that competition is considerably stiffer in the US, as most US PC makers made gains in the region as the market shrunk worldwide.
The bulk of the market movement was due to significant gains made across the board amongst top companies, including Hewlett-Packard Company (NYSE:HPQ) and Lenovo (OTCMKTS:LNVGY), as the market for smaller sellers generally contracted as worldwide PC shipments decreased by 2.1%, according to IDC.
Apple is due to reveal its company figures during its earnings conference on January 27, and according to IDC, the figures will confirm that it has gained a significant market share of a flagging PC market.