Another COINdinista Voices Doubts About Afghanistan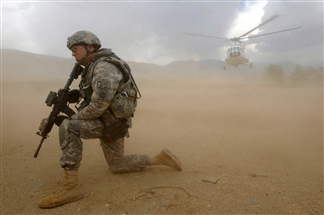 (DoD photo by Senior Airman Jim Araos)
Spencer Ackerman's leak from Kandahar earlier in the week has inspired a new one, this time from a CIA guy who's a veteran of counterinsurgency debates in Iraq:
This time, a former CIA counterterrorism operative who has served on the ground in Afghanistan, Pakistan and Iraq agreed to pass along a memo he has briefed to top military leaders since the fall debate over Afghanistan strategy. It's crossed desks at the White House, the Pentagon, U.S. Central Command and even Gen. Stanley McChrystal's command in Afghanistan.
While I can't go into the sourcing of this memo, it's penned by someone who began embracing population-centric counterinsurgency to mitigate the deterioration of the Iraq war as far back as 2005 — something that not a lot of CIA operatives bought into, then or today. Despite that pedigree, the CIA operative contends that attempts to protect the population from the insurgency and facilitate the delivery of Afghan government services are fatally undermined by the persistent corruption and ineffectiveness of the Afghan government and its institutions.
His alternative proposal doesn't necessarily strike me as any better, and seems to me to suffer from the endemic unwillingness of members of the national security establishment to give even passing consideration to the idea that benefits should be weighed against costs. I also always wonder what things like "crossed desks at the White House" means in practice. Large hierarchical organizations, like the chain of command ending at the president, are really good at sidelining bad news and keeping decision-makers in a fog of misinformation.