Anadarko's new shale play — Eagle Ford, Texas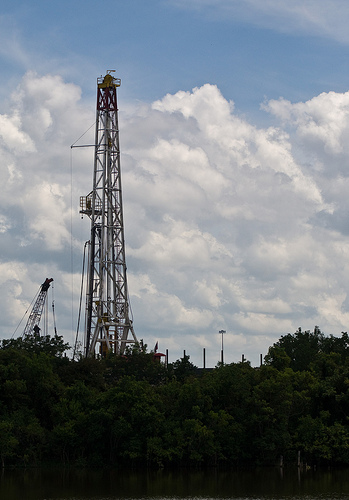 In recent years there has been a lot of attention given to North American shale plays, as technological improvements (including horizontal drilling and hydraulic fracturing) have made it more commercially feasible to access the oil and gas trapped in the shale formations. 
Plays like the Bakken Shale in North Dakota, Appalachia's Marcellus Shale, and North Texas' Barnett Shale have received the lion's share of attention from oil and gas explorers.
But there is also an emerging shale development in South Texas that is beginning to take off. The Eagle Ford Shale (named after the town of Eagle Ford where the shale outcrops at the surface in clay form) produces from depths between 4,000 feet and 12,000 feet. The play covers 16 fields and 22 counties stretching to the northeast from the Mexican border.
Petrohawk Energydrilled the first Eagle Ford well in 2008 in La Salle County. The discovery well flowed at a rate of 7.6 million cubic feet of gas per day from an 11,141 feet total vertical depth well. 
In 2010 Eagle Ford had 72 producing oil leases, up from 40 in 2009. There were 158 producing gas wells, up 67 from 2009. In late April 2011, some 1,698 drilling permits had been issued. The first quarter of 2011 generated more than 50% of all the drilling permits issued in 2010.
With ten operating rigs in the region, Anadarko Petroleum has become the largest producer in the Eagle Ford Shale. Securing more capital to exploit its holdings, in 2011 the company signed a joint venture deal with Korea National Oil Corporation (KNOC) under which KNOC agreed to pay $1.55 billion for one-third of Anadarko's holdings in the shale play.
Anadarko, KNOC, and Petrohawk are not the only players active in the Eagle Ford. With its proven production output and with high oil prices encouraging exploration and production, a number of other companies are actively seeking to cash in on the play's potential, including Apache, BP, Cabot Oil & Gas, Chesapeake Energy, EOG Resources, and SM Energy.
Another oil and gas boom in Texas?
~
Photo by Daniel Foster, used under a Creative Commons license.