American found guilty of Burger King bathroom murder that shook South Korea almost 20 years ago
TOKYO – A South Korea court sentenced an American man Friday to 20 years in jail over a murder committed in the bathroom of a Burger King restaurant in Seoul in 1997.
The case was sensational at the time, fuelling discontent in South Korea about the heavy American military presence, but went unresolved for almost two decades.
Arthur John Patterson, from California, was found guilty Friday of the murder of 22-year-old South Korean student Cho Joong-pil, who was found dead in the blood-splattered Burger King bathroom in Itaewon, a part of Seoul close to a huge American military base. He was extradited to Seoul from the United States 18 years after the crime.
"The court decided on a life sentence, but in view of the defendant's age, of being under 18 at the time, the sentence will be 20 years in prison," Judge Shim Kyu-hong said, according to the Reuters news agency.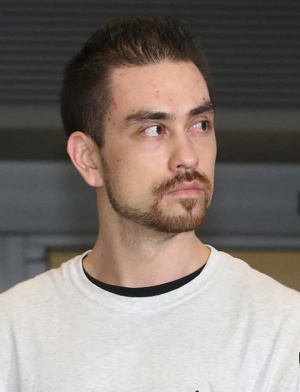 Yonhap / AFP, Getty Images Patterson arriving in South Korea in 2015.
Patterson was the 17-year-old son of a U.S. military contractor at the time. He and a friend, 18-year-old Korean-American Edward Lee, were in the restaurant bathroom at the same time.
Cho, the student, was found dead on the floor with knife wounds to his neck. The bathroom was splattered with blood.
Patterson emerged from the bathroom covered with blood from head to toe. He burned his clothes afterwards, while Lee had blood sprayed over him and washed his clothes when he got home, according to local reports.
The men blamed each other for the murder.
Lee was initially charged with murder and was convicted and sentenced to life in prison, which was later reduced to 20 years. Patterson was convicted of possessing an illegal weapon and destroying evidence, and given 18 months in prison, although he was quickly pardoned.
But South Korea's Supreme Court exonerated Lee in 1998, citing a lack of evidence, putting the focus back on Patterson. By that time, however, Patterson was back in the United States.
The case faded from the public's attention until 2009 when a movie called "The Case of the Itaewon Homicide" was released, encouraging prosecutors to reopen the case.
A local television station found Patterson was living in Sunnyvale, California and he was indicted for murder in 2011. He was extradited back to South Korea to face trial last September and has continually protested his innocence.
"There is credibility in statements made by Edward Lee, an accomplice, that (he) witnessed Patterson stabbing the victim," the judge said in Friday's verdict, according to the Yonhap News Agency.
"(Lee) incited Patterson to murder (Cho) and led the way into the bathroom (where the incident took place)," he said.
But during the trial, Patterson's lawyer said that it was Lee who killed the victim.
"Lee came into the restroom first with the knife just like the prosecutors explained," said Oh Byeong-ju, according to a report in the JoongAng Ilbo newspaper.
"But it's not true that Lee suggested that Patterson stab Cho."