Alan Greenspan Will Have His Revenge on the Social Security Trust Fund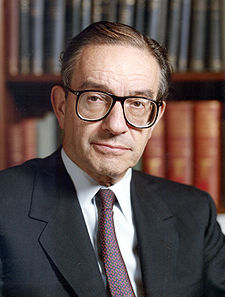 I often here right-of-center people express admiration for Singapore's pension system and who wonder why liberals can't get on board for changing Social Security into something like that. I think you can raise various question about the Singaporean system, but the biggest thing that this kind of remark often seems to miss is the issue of transition costs. Among other things, Sinagpore has a pre-funded system. Money actually went into the Central Provident Fund before it came out, and the quantity of payouts is related to the amount of money in the Fund.
US Social Security kinda sorta has this structure in theory, but in practice outlays are financed by current tax revenue. Card-carrying rightwing Social Security hater Andrew Biggs has a good column at the American laying out the way that this constrains present-day policy options:
As I noted in a recent National Review column on why Social Security reform has proved so difficult, shifting from a pay-as-you-go program to a funded system entails significant "transition costs," which are borne by the very citizens who would decide to make the change. Since today's Social Security, Medicare, and Medicaid benefits are paid from today's taxes, if we decide to pre-fund these programs then the current generation must pay twice: first for current beneficiaries, and second for their own benefits. Put simply, to shift from an unfunded program to a funded program, someone must contribute extra funds.
Conservatives and libertarians are free to complain about this set-up if they don't like it or think it shows midcentury American liberals were foolish. But it can't be simply wished away.
But if I may complain about conservatives and libertarians for a moment, this is precisely what was so horribly destructive about George W Bush's tax and budget policies in 2001-2008.
Flash back to the salad days of 1999-2000 and the US government was running budget surpluses. Members of the Clinton administration argued that this was advisable because the country was also facing a predictable one-time demographic transition that would raise Social Security costs. It was prudent, under the circumstances, to save for the future by continuing to run surpluses. At this point, George W Bush and most Republicans began making the argument that "it's your money" and the existence of surpluses showed the desirability of gigantic regressive tax cuts. Alan Greenspan himself stepped into the breach with a highbrow version of the argument, warning darkly that absent gigantic regressive tax cuts the government might pay off the entire national debt and then start accumulating financial assets.
Conservatives carried the day, rich people got their tax cuts, the short-term surplus was eliminated and the clear and the "danger" of national debt elimination was avoided. Somehow nobody noticed that this nightmare scenario was prefunding of future US pension obligations. We could have had a debate about whether to disburse that prefunding in the form of "private accounts" or a centrally administered fund or what exactly a private account would mean in that context. But instead we had a debate about the desirability of bringing back budget deficits and rescuing the national debt.