Ahead of Target launch, Canadian Tire bolsters sports category with Pro Hockey Life acquisition
We want to be the authority in sports in Canada from a retail perspective
TORONTO • Could sporting goods be Canadian Tire Corp.'s first line of defence against Target?
On the heels of several executive departures confirmed Wednesday as a bid to streamline costs, the retailer announced it will buy big-box specialty chain Pro Hockey Life Sporting Goods Inc. for $85-million.
The Montreal company, which sells high-end equipment, apparel and accessories and has 23 big-box hockey superstores in five provinces, "is really in a class of its own as the premiere, stand-alone, hockey-only superstore in Canada," said Michael Medline, president of the Canadian Tire's FGL Sports unit. "They are well-run, attractive stores from a customer point of view and well-merchandised. The banner has a lot of equity."
The move follows Canadian Tire's lucrative acquisition of Forzani Group Ltd. last year, part of a companywide effort to bolster its key merchandise and "heritage" categories such as automotive parts and services as much as it can before Target opens stores across Canada beginning in March.
"Sports is a heritage business for Canadian Tire," Mr. Medline said, a category it began selling in 1935. "FGL Sports took us to a new level in sports, and we want to be the authority in sports in Canada from a retail perspective."
Related

Canadian Tire seeks winning play for its Sport Chek brand
With an average store size of 20,000 square feet and has annual revenue of about $95-million, Pro Hockey Life is the second hockey-focused banner the retailer will keep; it also operates National Sports, a hockey retailer focused on team sports with 18 stores in Ontario. Pro Hockey Life, which has stores in Nova Scotia, Ontario, Quebec, Manitoba and Alberta, has larger outlets which offer a higher-end assortment of goods.
FGL Sports has about a 20% share of the country's $9-billion sporting goods business, and apparel and footwear account for 72% of its sales. The unit's growth is a critical strategy for the retailer as it tries to position itself as a trusted expert in sports with a higher level of customer service.
"We have always known Canadian Tire to be a department store selling commodities you can get just about anywhere, but now with Target coming in, competition for commodities is getting so fierce they are getting into selling knowledge, experience and a premium product," said Jim Smerdon, director of retail and strategic planning at Colliers International in Vancouver.
"It is part of their differentiation strategy," he said. "We are seeing some sectors of the market trying to go head-to-head and compete on price and product offering with Target and others are trying to show that they are playing their own game.
They are really trying to improve their reputation in the market [at FGL Sports] with regards to service and want to be known as experts in the merchandise they are selling and in the activities that they are selling them for. That's added value for the customers — to let them know how they will be used in the real world."
FGL Sports has shown solid performance since the acquisition over a year ago. In the third quarter, FGL Sports' retail sales increased 4.2%, while same-store sales, a critical bellwether of retail performance measuring sales at stores open for a year or more, increased 4.4% on strong sales in apparel, equipment and footwear. In the first three quarters, same-store sales rose 5.8% at FGL Sports.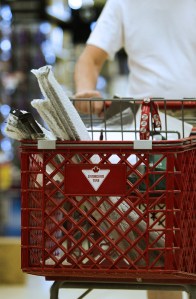 Brent Lewin/BloombergCanadian Tire has made moves to further restructure streamline its executive ranks.
In the meantime, Canadian Tire has made moves to further restructure streamline its executive ranks, confirming to several retail analysts on Wednesday the departures of Mike Arnett, executive vice-president of corporate development, Kristine Freudenthaler, senior vice president of technology, and Angela McMonagle, head of investor relations, and an undisclosed number of layoffs at the vice-president and assistant vice-president level.
"We do not view these changes as suggesting any change in strategic direction or having any immediate earnings impact other than potential head count reduction benefits," said Jim Durran, retail analyst at Barclays Capital.
Corporate development will become part of finance and report to CFO Dean McCann; Mark's division COO Harry Taylor, who previously reported to Mr. Arnett, will now report to Mr. Medline. Glenn Butt, the executive vice-president of customer experience and automotive, is leaving the head office to run an undisclosed store. Investor relations has been merged with the retailers's corporate financial planning group.
"Because sales growth is becoming more difficult to achieve, almost all companies in the retail space are looking to become more efficient and control costs," said one sector analyst, noting Canadian Tire's core retail sales rose a lacklustre 0.3% in the third quarter, while same-store sales fell 0.2%. "If that is status quo and with Target coming in, they have to look [measures] such as a leaner structure."
FGL Sports has 490 stores across Canada, with more than 150 under the expanding Sport Chek banner.
In May Canadian Tire announced a major push in the division, announcing it would open 100 new stores over five years under the Sport Chek banner and the outdoor lifestyle banner Atmosphere, boosting its overall retail space in the category by 50%, or by about 1.4 million square feet. FGL Sports also has plans to open 10 large new concept urban flagship Sport Chek stores beginning in 2013 in order to extend its retail footprint in Ontario.