Adventures In Deadweight Loss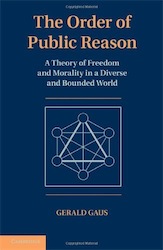 Will Wilkinson writes "Gerald Gaus' new book The Order of Public Reason: A Theory of Freedom and Morality in a Diverse and Bounded World is a major event in moral and political philosophy. It is also very long. And stupefyingly expensive."
How expensive? Well it's on sale right now over Amazon and it costs $82.40 with the discount!
That's a lot of money. And while I understand how it is that academic books sometimes come out with such stagering unit prices, I do wish people working in the academic world would think a bit harder about this economic/scholarly model. Professors employed at research universities are getting public and charitable funding because we think the production and dissemination of knowledge is important. That means it's important to think about what's actually a good way of disseminating knowledge. It's true that making academic books and journals cheaper would entail a loss of revenue. But the vast majority of the revenue is either coming directly from other academic institutions or else out of the pockets of the staff of other academic institutions. If you shifted to a different paradigm, there'd be no net loss of financial resources available for scholarly purposes. There would, however, be positive spillovers in that people who aren't employed by research universities would be able to get access.