An ad from dating website eHarmony has been banned and branded 'fake news' for suggesting it uses science to help people find love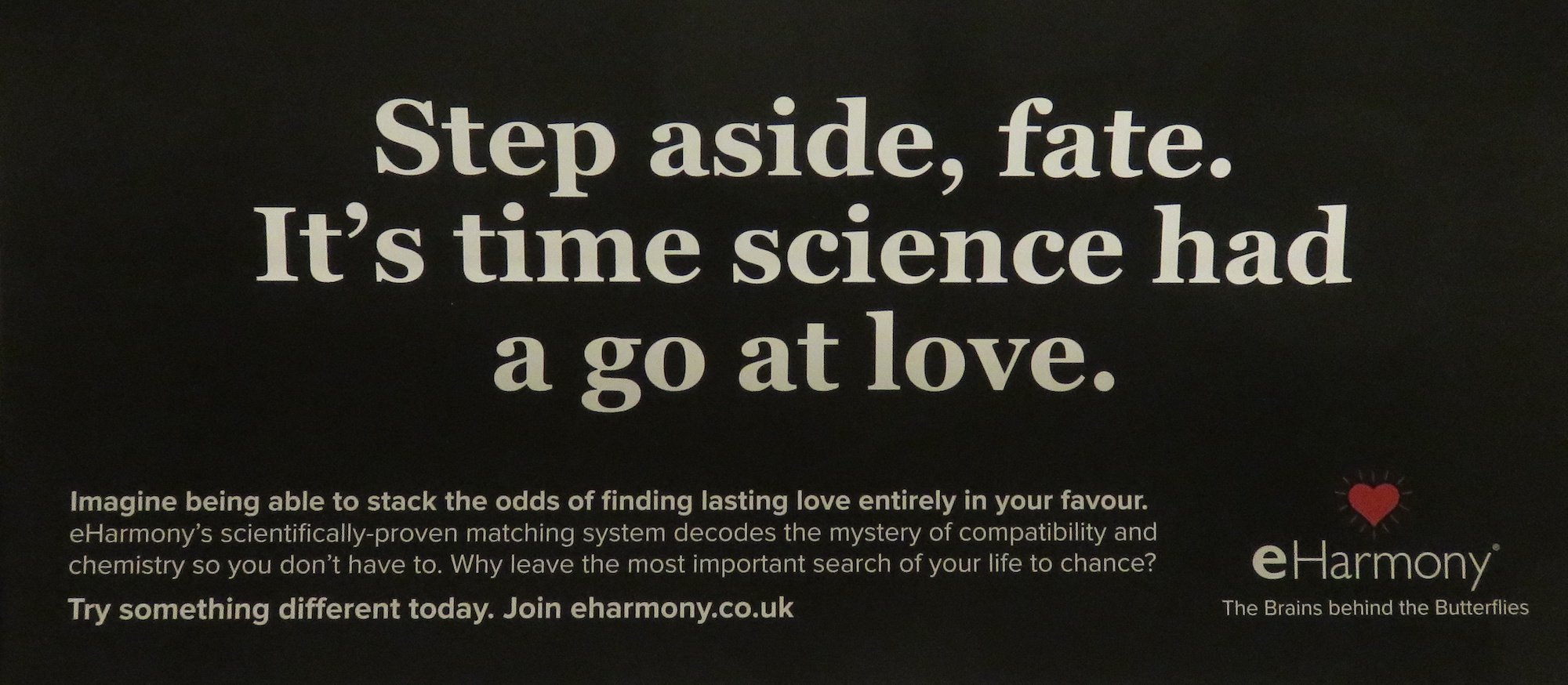 ASA
A London Underground ad for dating website eHarmony has been banned for being "misleading."
According to the Advertising Standards Authority, the ad suggests it "offers users a significantly greater chance of finding lasting love" by using a scientific algorithm.
The ASA ruled it must not appear in its current form.
The complainant called it a "new form of fake news."
An advertisement from dating website eHarmony has been banned by Britain's Advertising Standards Authority (ASA) for suggesting it "offers users a significantly greater chance of finding lasting love" with a scientific algorithm.
The ad, which appeared on the London Underground, features the text: "Step aside, fate. It's time science had a go at love." It continues:
"Imagine being able to stack the odds of finding lasting love entirely in your favour. eHarmony's scientifically proven matching system decodes the mystery of compatibility and chemistry so you don't have to. Why leave the most important search of your life to chance? Try something different today. Join eharmony.co.uk."
The dating site uses a compatibility matching algorithm in order to match users, taking into account responses to questionnaires on personality traits, values, and interests.
The algorithm — which eHarmony submitted a granted patent for — is based on data collected from "more than 50,000 married couples in 23 different countries, which looked at their core personality traits and key values," according to the company.
It also provided two published studies which reported "higher levels of marital satisfaction for couples who met through eHarmony than any other offline or online sources."
However, the complainant — Lord Lipsey, joint chairman of the All Party Parliamentary Group on Statistics and a former member of the ASA council — believed it "was not possible to hold scientific proof about a dating system" and challenged whether the ad was "misleading," according to the ASA.
According to the BBC, he said the phrase "scientifically proven" should only be used in claims that are "just that" and not "crude puffery designed to lure in those longing for love."
"This is a new form of fake news which the ASA has rightly slapped down," he said.
eHarmony argued that the ad did not "making any specific claims except that their matching system was scientific and could therefore provide an advantage in finding a compatible partner over a purely chance-based system or meeting."
The firm added that it did not make any guarantees about finding lasting love or claim it had a better success rate than any other service.
While the ASA acknowledged that consumers would be unlikely to think eHarmony could guarantee they would find lasting love, the watchdog stated: "We considered that consumers would interpret the claim 'scientifically proven matching system' to mean that scientific studies had demonstrated that the website offered users a significantly greater chance of finding lasting love than what could be achieved if they didn't use the service."
It added that while the research put forward by eHarmony suggested the largest number of respondents who met through online dating had met through the service, "the figure was not higher than other general online and offline sources," such as bars. ASA concluded that the claim "scientifically proven matching system" was "misleading."
The ad has been banned from appearing in its current form. According to the BBC, eHarmony said it "respectfully disagrees" with the ruling but will make its advertising "as clear as possible."NOW WATCH: Why airplane windows have tiny holes