Achoo! FDA pulls prescription cold meds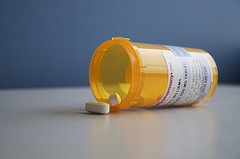 Starve a cold? Feed a fever? Or just drink plenty of fluids and feel sorry for yourself.
Well, this hit close to home since my husband is suffering from the worst cold ever (that might be hyperbole). The FDA just pulled around 500 prescription cold medications, saying they had never been approved for use.
Seems that the medications or their ingredients predate a 1962 law requiring FDA review. According to the agency, some of the drugs are also listed for use by children but contain the same ingredients as drugs that were labeled as NOT for children in 2008. Other problems include similar names with other products, potentially leading to medication mixups.
A list of the products can be found here.
The good news (for me, anyway): I scanned the list and never heard of any of these.  There are still plenty of over-the-counter and prescription drugs out there that treat both garden-variety colds and the worst-cold-ever colds. Which, strangely enough, tend to go away in a week no matter what variety.
The better news is that the FDA is doing what it is supposed to do, and that is monitor the safety of our food and medications. No doubt the agency will come under fire for this action, since these drugs had been de facto tested on the population for several decades. In a New York Times article, a drug manufacturer made exactly that point:
"These products have been made for a very long period of time," said Davis S. Caskey, vice president for pharmaceutical operations at ECR Pharmaceuticals, in Richmond, Va. "They've been widely available to the public with minimal side effects."
Caskey's right, of course. But he added that his company would still seek approval for its product. After all, no point in being left out in the cold.
~
Photo by Charles Williams, used under a Creative Commons license.