6 Month Review of Investment Ideas and Strategies
Bruce Schrader submits: I'm generally content with my portfolio performance. In addition to one book review (on Peter Schiff's book "The Little Book of Bull Moves") I wrote about 6 investment ideas. I view three of these ideas as being a resounding success (buying CTL, buying ARMH and buying a straddle on FRO). However, I believe it is too early to be judged on two (one of which, avoiding CMG, is trending against me and the other, on Canadian income trusts, is trending in my favour), and one (on commodities pair trade) has been generally been mixed. 1) On June 21nd I wrote Commodity Conundrum. In this article I noted that commodity prices (gold, silver, copper etc.) had increased in value, but the mining companies (e.g. NYSE: ABX, NYSE: KGC, NYSE: AA etc.) had not appreciated to the same extent. I advocated a pairs trade: buying the mining companies and shorting the commodity ETFs (e.g. NYSE: GLD, NYSE: SLV, NYSE: JJC, NYSE: JJU etc.). In my article I did a case study of Kinross (KGC) and suggested "that for every one GLD shorted, approximately 6.6 shares of Kinross will be purchased." On June 22nd Kinross was trading at $18.08; it is now trading at 18.53, during that time there was a 5 cent dividend, which combined resulted in a 2.7% return for the period. Conversely GLD appreciated from $121.39 to 134.66 during this period, which resulted in an 11% return. The case study proved wrong over the time period. I was too quick with my entry point. Less than a month after I wrote this article KCG was down 14% where the GLD was down 4%. If you entered the trade on July 1 (which is a few weeks BEFORE KGC's low point) then you would have purchased 7.2 shares of KGC for every one of GLD and by October 1st (3 months later) you would have been up 5.8%. Timing is everything.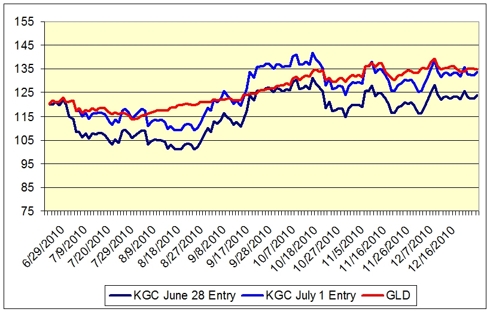 These charts show a few other combinations of this thesis. The thesis was hit or miss when implemented on gold stocks, but with aluminum and silver the pairs trade worked out much better. The pairs trade for silver would have netted you a 25% return and the pairs trade for aluminum would have netted you an 8.4% return (about the same as the loss in the KGC/GLD trade).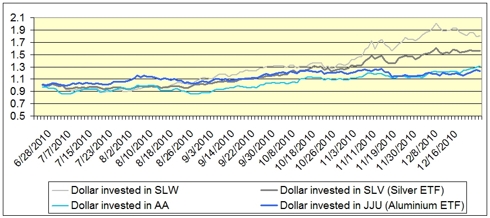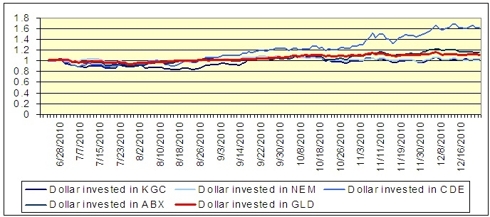 Because of the inconsistency in results I will record this article as a minor failure.Complete Story »