$5 a gallon for gasoline! Real price, speculation, or gouging?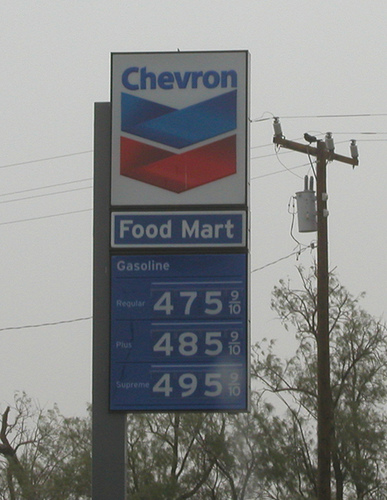 You'd never know it by the popularity of SUVs (according to Edmunds.com the Ford Explorer is still the top selling new vehicle in the US), but gasoline is flirting with $5 a gallon in some markets.
About a week ago the Energy Information Administration reported that the likely average for gasoline this summer would be nearly $4 a gallon.
So what is going on?
Before I answer that let me say what is not going on. First, there is no real shortage of oil on the global market. In addition, high commodity prices have exploration and production companies pumping way at a steady pace.
Secondly, there has been no noticeable, sudden restriction in the supply of refined petroleum products in the US (beyond the natural limits of a national refinery system that has only half the number of refineries operating, albeit more efficiently, than were operating some 40 years ago).
So what is driving the rapid price increase? Speculation? According to some, a section of Wall Street and their peers around the world are betting that the unrest roiling North Africa and the Middle East will result in future disruptions of oil supply. They are buying up and driving up oil futures (to a per-barrel cost for crude oil of $110 and higher) with the hopes of cashing in, if and when a real crisis in supply occurs in the future and oil prices spike.
The rise in crude oil pricing is being quickly transferred to the retail level and petroleum products (crude oil accounts for about 68% of the price of a gallon of gasoline). Taxes are about 12 % of the tab. A year ago, a gallon of gasoline cost $2.76 during the driving season (late spring and summer when most Americans typically get behind the wheel for vacations). Last week, at the start of the season, the regional average price for a gallon around Washington, DC was $3.83. Some local gas stations were posting gas at $5 dollars.
Where did the other dollar in charges come from? Refining, marketing, and distribution price gouging by the oil companies or the local gas station franchisees of BP, CITGO, Shell, Exxon Mobil, or Valero Energy or others? Often alleged, but hard to prove. (However, the Obama Administration has just established a task force to investigate just that.)
I am mainly blaming the speculators for the high prices. The best hope for the beleaguered US motorist is that the oil speculation will be short-lived, and that a calmer North Africa and Middle East will lead to the speculative bubble bursting soon and that oil (and gasoline) prices will return to a position where they reflect fair market value.
However, Gaddafi seems to be staying put, and I just saw that tanks have rolled into a Syrian city and protesters are being shot.
Maybe those speculators are on to something.
~
Photo by Jandy Stone used under a Creative Commons license.