400,000-person human chain stretches 400 kilometres to demand independence from Spain
Hundreds of thousands of Catalans joined hands to form a human chain stretching more than 400 kilometres across the Mediterranean coast Wednesday to demand independence from the rest of Spain.
The protest on Catalonia's National Day by people dressed in yellow and waving the regional flag demonstrated the strength of an Independence movement that is demanding a Scottish-style referendum.
A poll claimed 52% of Catalans would vote to break away from Madrid and form a Catalan state.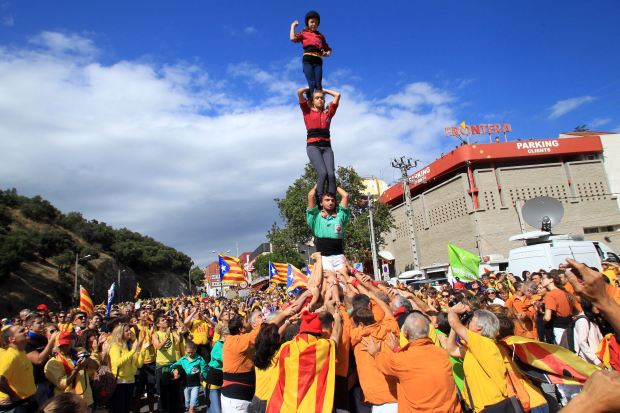 AFP PHOTO / RAYMOND ROIGRAYMOND ROIG/AFP/Getty ImagesActivists calling for the independance of Catalonia, currently a region of Spain, form a human pyramid during a protest on September 11, 2013, in Perthus, southern France. Independence-seeking Catalans marshalled their forces today for a 400-kilometre (250-mile) human chain in a bold push to break from Spain despite fierce opposition from Madrid.
A deep recession and cuts in public spending in Catalonia, a wealthy industrial region that accounts for a fifth of Spain's economic output, have stirred discontent with the central government in Madrid.
The human chain, which organisers claim drew more than 400,000 people, stretched from the French border in the Pyrenees to the border with Valencia in the south. Protesters called for a date to be set for a referendum on independence, a pledge that the regional president Artur Mas gave when he won elections last November.
The Daily Telegraph