4 Barbecue Festivals Worth Traveling For This Summer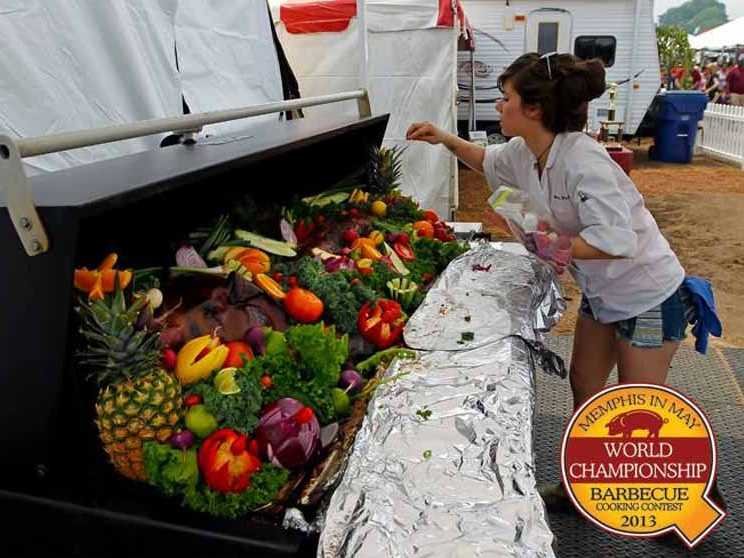 If you're an ambitious gastrotourist, you can find great barbecue festivals happening around the U.S. all year long. But the summer season, starting with National Barbecue Month in May, is really the sweet spot. Thousands of barbecue festivals happen during the summer, each with its own regional governing body, according to Myron Mixon, who claims to have won more barbecue awards and competitions than anyone else in the world. He's visited plenty of them with his "BBQ Pitmasters" TV show on Destination America. Mixon gave us a rundown of the barbecue festivals worth traveling for this summer:
Safeway Barbecue Battle in Washington, D.C., June 21- 22: "Twelve blocks of Pennsylvania Avenue are closed off for this one," Mixon said. "It's a good time. There are a lot of big vendors. You get to cook BBQ on the most famous street in America. It's the best to look down one end of the street at the Capital Building and then have rows of BBQ between you and it."
I Love Barbecue Festival in Lake Placid, N.Y., July 4 - 6: "This is a nice looking place to have a BBQ," Mixon said. "You're in the mountains by a lake right in the spot where they had the Winter Olympics."
The American Royal World Series of Barbecue in Kansas City, Mo., Oct. 2 - 5: "This festival is the largest in the country with over 600 contestants," Mixon said. "You can do a nice BBQ crawl here. All the BBQ restaurants around the Royal will give you a different type of BBQ, plus you have the competitors at the festival. There's a lot of hip places for BBQ in Kansas City. A lot of the hip people from up north will feel right at home."
The Plant City Pig Jam in Plant City, Fla., Nov. 22: "They run their fest in conjunction with a Strawberry festival," Mixon said. "They have strawberry shortcake and strawberry milkshakes, which are my weakness. It's a great complement to the BBQ main event. I like BBQ festivals that are happening at the same time as other food festivals."
If you can't make it to one of these festivals and want to plan your own barbecue road trip, here's what you'll fin in America's various barbecue regions, according to Mixon:
In the lower Eastern seaboard from Virginia down around to Mississippi, the barbecue is Carolina style, and that means pork. Traditionally, you'll get pulled pork, pork ribs and the whole hog in a vinegar-based sauce.
Memphis, Tenn., is known as the Super Bowl of Pork. It has a ketchup-based sauce that's sweeter than it is in the rest of the South.
In Texas, Kansas City, Mo., and elsewhere in the Midwest, beef "dictates and describes" barbecue, Mixon said. Here. you'll traditionally find spicier sauces with a ketchup base. Especially in Texas, the sauce will be spicier, while in the Midwest, it will be sweeter with a hickory flavor.
FOLLOW US! Check out Business Insider on Instagram Join the conversation about this story »