3Q Results Suggest Business Accelerating for Rex American Resources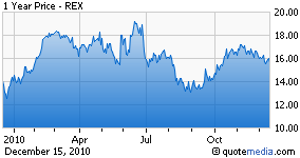 Rex American Resources (REX) recently reported strong third quarter results that I think suggest earnings acceleration into the fourth quarter and the new year. EPS were $0.44 versus consensus forecast (two analysts) at $0.29. The stock did not react positively to earnings, perhaps because investors were focused on the expiration at the end of this year of the $0.45 tax credit for blending ethanol into gasoline and the $0.54 ethanol import tariff. However, according to many media reports, this issue appears to be on its way to being resolved, with current tax legislation making its way through Congress extending the credit and tariff next year.Results for the two divisions at Rex for the third quarter were generally positive:
Real estate: While this legacy division continues to be a modest drag on EPS, the company is making progress on monetizing or leasing assets. In the quarter, the company sold its smaller distribution center (DC) for slightly below book value. The larger and last DC is still more than half vacant. The company also sold five former retail stores, for which I estimate they took an average gain of 15%. This leaves the company with 34 stores, nine of which are leased beyond the holidays, that it wants to lease or in many cases sell.
Ethanol: The trends at Rex's ethanol plants were generally positive. The unconsolidated plants (about half of production) saw strong margins, earnings, and cash flow that is allowing them to pay down debt. This is an excellent trend for future quarters, especially as industry crush spreads have increased during the fourth quarter by about $0.05 from the third quarter. The results for plants consolidated into Rex's financial reports were more mixed. One Earth Energy (1/3 total REX production, 3/4 consolidated production) had strong results like the others, but the Levelland plant, the smallest of Rex's, had slightly disappointing results.
From the 3Q report, I believe the following are key take-aways for investors:
Earnings outlook strong: Based on 3Q margin trends and current 4Q crush spreads, REX could report EPS of $0.70-$0.75 in fourth quarter, in line with last year despite lower crush spreads versus last year. The Street consensus forecast is, I believe, at $0.35 for fourth quarter. Based on the futures prices and Rex business trends, EPS could be $2.50-$2.70 next year, up from an estimated $1.65-$1.75 this year.
New Nugen plant should be highly accretive next year: Nugen is the 100-millon gallon per year (mgy) plant that Rex just purchased a 48% share in, which I believe is operating well below its potential. The plant only generated operating income of $1.6 million in the third quarter vs. $6 million at other plants. Although Rex just bought this plant in the third quarter, the company was a previous owner before selling it for a premium a few years back and knows how to make money with it. I think the issue with Nugen has been a capital constraint and poor pricing on its co-product, dried distillers grains (DDGs). Rex addressed the capital issue with its investment and has begun selling DDGs through a third party that should help ensure a better price. I think Rex should start to see some improvement in the fourth quarter (about $0.05-$0.10 accretion, by my estimate) and significantly more in 2011 (about $0.50 accretion, by my estimate).
Expansion at other plants likely: Rex got EPA approval to expand two of its most profitable plants if it chooses to. Similar expansions by plants where Rex is a partner have proven highly profitable and, per the company, can be done for very little capital. If the company decides to move forward with expansion projects, this could be an important driver for growth in late 2011 or 2012.
Valuation Extremely Compelling: Rex is an asset play as well as a cheap stock based on earnings. The company has approximately $7.50/share in corporate cash and I estimate the real estate is worth about $3.00-$3.50/share. The company has approximately $1.50/share in tax assets it can apply against general income. Based on $1.05-$1.25 enterprise value per gallon of ethanol production, the ethanol assets are worth about $8-$12/share. Thus, the sum-of-the parts analysis yields a $20-$24 fair value estimate. On a P/E basis, the stock trades at only 9x this year's EPS, or 3x excluding cash and real estate. On an EV/EBITDA basis, the stock is only trading at 3.5x. All these valuations are before any growth next year.Disclosure: Author long REXComplete Story »