A 30-year-old with a growing wine empire reveals the common mistakes people make while drinking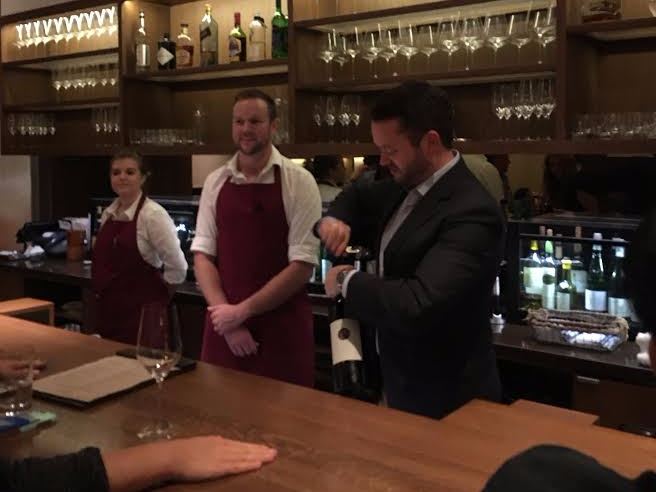 Michael Hill-KennedyAs a recent college graduate, my knowledge of wine up until yesterday was limited to how to best "slap the bag" to get the most out of a box of wine.
But after a recent meet-up with renowned sommelier Michael Hill-Kennedy, I can now say I am a bit more well-versed in the world of fine wine tasting.
The recent inductee to Forbes' 30 under 30 list for food and drink told me that he's a mischievous kid at heart who doesn't mind breaking some rules and taking risks.
And when he set out to start his own wine business, Component Wine Company, Kennedy was looking to break some of the strict rules that have underpinned the wine industry for the last 100 years.
Kennedy, now 30, got his start as a part-time tasting room employee at a small family-owned winery in Missouri in 2009.
It didn't take long for Kennedy to rise through the ranks. He quickly obtained his certification as a sommelier and snagged the spot as the winery's director of wines. His love of wine took him to Washington, D.C. in 2012 where he served as sommelier for two different Ritz-Carlton locations.
We met up at Aldo Sohm Wine Bar in Manhattan where some of his wines were being served. We tasted a 2016 Semillon from Napa Valley, the company's first white wine.
Here's what I learned from the experience:
Before you throw back a glass of wine, you need to put your other senses to work. First, you're going to look at it. A good place to start is with the wine's legs. You've probably heard about the legs, the tears that run down the inside of the glass. The rate at which the legs fall down the side of the glass are not an indication of the quality of the wine. Rather, they show you how much sugar is in the wine.


Frank ChaparroHere's Kennedy:
"Thicker legs means the wine has fuller body - which could mean more sugar, tannin or alcohol. But just because a wine has thinner legs doesn't mean its worse, it's just lighter."
Next, look at the color. That can tell you about how the wine is made. For a white wine, like the one Kennedy and I sampled, a lighter color means it could have been made in stainless steel, while a more golden color typically means oak.
After you look in the wine, then you smell it to identify aromas. The Semillon we sampled smelled like peaches, pears, orchids, and mushroom.
Remember to take very brief quick breaths through your nose. Here's why:
"If you breath in too much or too deeply, the nose will numb from the alcohol. A huge sniff is bad because 98% of taste is connected to your nose ... so don't numb it out!"
After you look at the wine and smell the wine, then you're ready to taste it. Start with small sips with your head facing down. Make sure it rolls around your entire tongue so all of your taste buds can get a sense of it.
Kennedy was adamant about one thing during our visit: "Trust what your taste."
Wine, he says, is about the experience, and is not a perfect science. So enjoy it. NOW WATCH: THE RAY DALIO INTERVIEW: The billionaire investor on Bridgewater's 'radically transparent' culture and how to bet on the future