1994, 2004, 2014: Is The Bounce In Yields The Start Of Something Bigger?
The recent decline in US yields appears to have run its course and given Citi's outlook for a better employment dynamic in the US, they expect yields to trend higher at this point. Citi's FX Technicals group remain of the bias that the normalization of labor markets (and the economy) will lead to a normalization in monetary policy and as a result significantly higher yields in the long run. Might the shock be that the Fed could be grudgingly tightening by late 2014/early 2015 (an equal time line to the 1994-2004 gap would suggest end November 2014) just as it was grudgingly easing by late 2007 despite being quite hawkish earlier that year? However, given the "treacherous market conditions" we suspect Citi's hoped-for normalization won't go quite as smoothly as The Fed hopes. Via Citi's FX Technicals Group, The decline in the US 10 year yield which began in April appears to be coming to an end after pivotal support held around the 2.40% area (converging 200 week moving average and the October 2011 and the 2012 highs) US 10s bouncing off pivotal support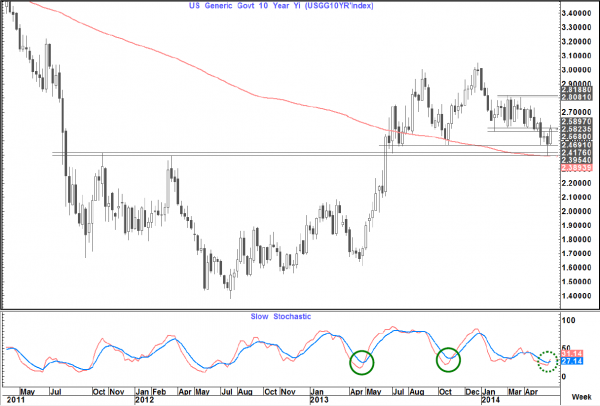 Since then we saw a bounce higher leading to a failure to close below the neckline of a potential double top at 2.47%. Rather the 10 year yield continued to push up this week. Weekly momentum has also turned higher from historically stretched levels (turns from similarly stretched levels occurred in April 2013 and October 2013 and in both cases higher yields followed) Resistance around 2.56%-2.58% is currently being tested and a break through there, which is our bias, opens the way towards the 2.80% area (top of the recent trading range) initially and then the trend highs around 3% Ultimately we remain of the view that as the US economy (and Fed policy) normalizes, even higher levels in yields across the curve will continue to be seen. US 30 year yield approaching key resistance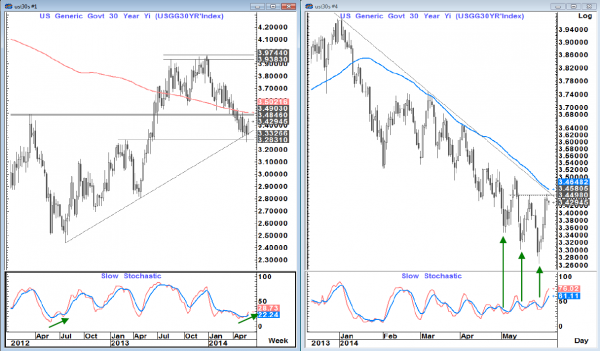 The US 30 year yield has also seen a strong bounce after failing to push below supports around the 3.30% area. There is also positive momentum divergence (not triple) on the weekly chart just as there was in Summer 2012 when the long-term low was put in (left chart). Positive triple momentum divergence has been confirmed on the daily chart (right chart) suggesting the move lower in yields as run out of steam. There are now significant resistance levels converging around the 3.45%-3.50% area including 55 day and 200 week moving averages, the downward sloping trend line and the highs from October 2011, 2012 and mid-May. A break above there opens the way back up to the trend highs around 3.94%-3.97%.... 30 year yield monthly chart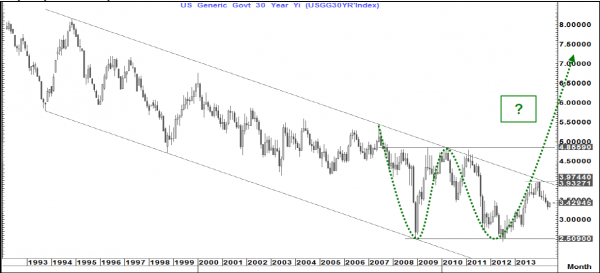 That area also holds the top of the long-term downward sloping trend line, a break of which suggests the 20+ year trend is over and higher levels are likely, initially towards 4.85%. A decisive break above there, if seen, confirms a major double bottom which would then target 7.25% US 5 year yield consolidating for now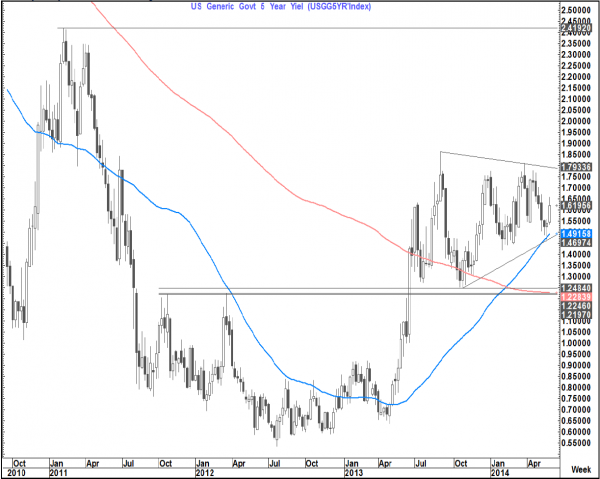 While the back end of the US yield curve has seen a strong move lower in the last few months, the 5 year yield has managed to remain in a consolidation pattern Support is around 1.46%-1.49% with a move below there opening the way towards the 1.21%-1.25% area, though we are not currently expecting such a development Our bias is for a break out of the consolidation top around 1.80% which would then suggest a move towards 2.41%, the 2011 high The normalization of Fed policy should result in the sharpest initial rise in yields to continue to take place in the 5 year space, in our opinion, as the US economic recovery continues to take hold and monetary policy remains on track to end QE This should result in a steeper 2s-5s curve…. US 2s-5s: "The best interest rate chart in the world"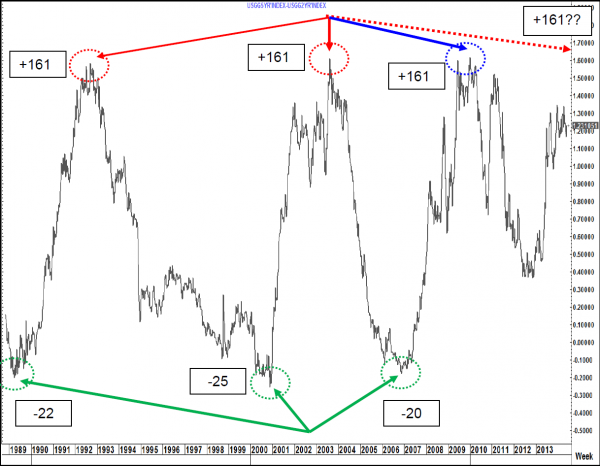 On 3 occasions in the last quarter century we have seen this chart go to +161 basis points and on 3 occasions we have seen it move to the area around -20 basis points. In 5 of those 6 periods we have seen this being a precursor to a shift in Fed policy. The exception to this rule was when we turned off the +161 level seen in 2009/2010. In the prior 2 occasions the flattening off this level was a "bear-flattening" as the market anticipated that we were moving to a tightening in Fed policy (Just as the rises from inversion were bull steepening's as the market anticipated an easing of Fed policy.) The flattening we saw from the 2009/2010 peak was NOT a bear flattening and it was NOT the market anticipating a Fed tightening but quite the contrary. The flattening was "interference", more commonly known as QE. This caused the curve to bull flatten as Fed monetary policy moved to the long end of the curve….so it really was "different this time" In our weekly of 20th March titled "QE is dead-Long live normalization" we articulated the view that as we now head for what we believe will be a normalization / a more traditional monetary policy approach that this curve can once again be a strong indicator of what is to come. So what do we expect now?
We still expect the curve above to further steepen initially as 5 year yields head higher more aggressively than 2 year yields. That is because at this point Fed policy is changing at the longer end of the curve but not YET at the Fed funds level.
We would not be surprised if we see this curve head right back to 161 basis points again as Fed interference becomes less and less.(As tapering continues to wind down new purchases by the Fed down to zero before the end of 2014)
At that point, looking at the historical perspective, we would expect the bear steepening to then "morph" into a bear flattening as the market begins to realize that the timeline for a move by the Fed on the Fed funds rate is not going to be as long as they thought.
At that point 2 year yields are likely to head sharply higher and rise at a pace greater than 5 year yields causing the curve to bear-flatten in a more traditional way
A point worth noting- We would argue that the 161 basis point peak seen in June 2009/Jan 2010 was an "aberration" caused by aggressive short-term/long-term monetary policy and in particular because we subsequently saw a bull flattening (Unlike the bear flattening of 1992 and 2003). As noted above we expect that level to be reached again as 5 year yields "normalize" now that tapering to ZERO appears to be a "done deal" for later this year.(After which we expect a bear flattening as the perception grows of a move to "Fed funds normalization") The first peak on this chart occurred in the summer of 1992 and the second 11 years later in the summer of 2003 (The points at which the worst was behind us and things were improving again). A similar timeframe would suggest a "real" 161 basis point peak (As interference known as QE exits the market) would be the summer of 2014 (July in fact if it was to be a 10 year and 11 month timeframe like before) There was quite a long lag after the Sept 1992 peak before the Fed raised rates (17 months) but much less after the August 2003 peak (After we went to extraordinarily low rates of 1% in Fed funds) of 10 months. Given the even more "extraordinary" accommodation this time we would not be surprised if that timeframe was even shorter again (End 2014-early 2015 if we peak at 161 basis points in the summer?). The 2 year yield may serve as a strong guide as to just when the hiking cycle will begin… US 2 year yield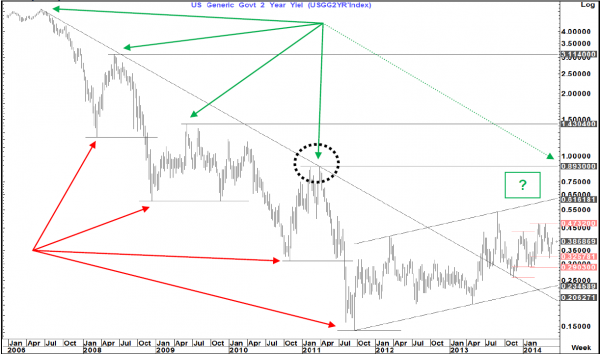 Following the recent 76.4% pullback the 2 year yield moved higher again and posted a second 76.4% pullback. A break through the retracement pivot at 47 basis points would open the way towards the channel top at 61 basis points. 89 basis points, though, may be the pivotal number to watch. Ever since the financial/housing crisis began the 2 year yield has had a consistent path of lower lows and lower highs. A break back above 89 basis points (weekly close) would change that pattern and be the "icing on the cake" in suggesting that much higher yields are in prospect going forward. The next major level above the 89 basis point level would be the June 2009 peak at 1.43% US 2 year yield minus Fed Funds rate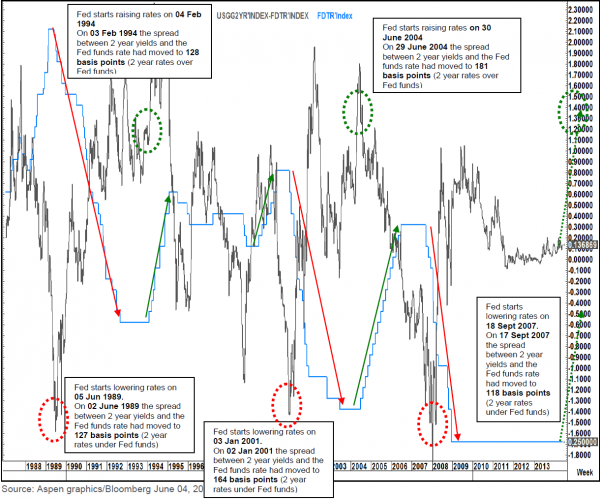 Going back to the start of the Fed PUT era (beginning with Alan Greenspan, then Ben Bernanke and now Janet Yellen) all policy changes from the cycle low/high in the Fed funds rate have been preceded by a large gap opening up between the 2 year yield and the Fed funds rate ). This gap has regularly been in excess of 100 basis points before the Fed capitulates and moves short-term rates. (Including in Sept. 2007) This may well suggest that we are going to have to see that break of 89 basis points on the 2 year yield and a move towards that 1.43% level before the Fed capitulates on the Fed funds rate (That normally happens earlier than they would guide) and raises short term rates. If we look at the present Fed funds rate (Zero-25 basis points) this suggests that once we start heading into the 1.20-1.50% range in 2 year yields that a Fed hike is likely pretty imminent. As we mentioned above, we believe that a break of 89 basis points on the 2 year yield may well be the early warning sign that this development is materializing. 1994, 2004, 2014????. Might the shock be that the Fed could be grudgingly tightening by late 2014/early 2015 (An equal time line to the 1994-2004 gap would suggest end November 2014) just as it was grudgingly easing by late 2007 despite being quite hawkish earlier that year? We remain convinced that monetary policy normalization and economic normalization come "hand in hand" and that the coming months are going to show a backdrop that validates the move in yields that we are anticipating throughout the rest of this year and beyond. This will be supportive of our view of a strong USD going forward… * * * We wish them luck in this trade... Howver, as we discussed in detail here and here (Treacherous Market Conditions), we suspect things won't "normalize" quite as the Fed plans...