"Shared Sacrifice" in Michigan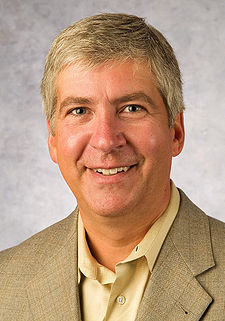 Normally, when conservative politicians say something, what they mean is "lower taxes on rich people." When I saw that Michigan Governor Rick Snyder is proposing a budget calling for "shared sacrifice" I assumed that I was going to have another example for my file. It turns out, though, that he's actually taking an innovative tack and by "shared sacrifice" he means "lower taxes on business."
Mr. Snyder, a newcomer to politics who ran on his business expertise as the former head of Gateway Inc., outlined his budget proposals before legislators at the state capitol. Mr. Snyder said that he hoped to address the state's longstanding financial problems through "shared sacrifice." [...]
Like many states around the country, Michigan is facing a huge budget deficit of $1.4 billion. Mr. Snyder's budget would make $1.2 billion in cuts to schools, universities, local governments and other areas while asking public employees for $180 million in concessions. Mr. Snyder said that he would set an example by reducing his salary this year to $1.
Mr. Snyder's plan also calls for big changes to the state's tax system. He would eliminate the current business tax in favor of a flat 6 percent corporate income tax, resulting in $1.8 billion in tax cuts for businesses. To pay for those changes, he would eliminate many personal income tax credits and require pensions to be taxed.
So that's lower government services for the poor and the middle class, plus higher taxes for the poor and middle class, plus lower taxes for business. Innovative!