'Why can't you guys get your act together?': Voter anger rises as U.S. Congress budget impasse starts to 'inflict pain'
WASHINGTON — Just hours after across-the-board spending cuts officially took effect, President Barack Obama pressed Congress on Saturday to work with him on a compromise to halt a fiscal crisis he said was starting to "inflict pain" on communities across the United States.
Obama and a bipartisan group of congressional leaders failed on Friday to avoid the deep spending reductions known as the "sequester," which automatically kicked in overnight in the latest sign of dysfunction in a divided Washington.
If left in place without legislative remedy, government agencies will have to hack a total of $85 billion from their budgets between Saturday and Oct. 1, cuts that over time could cause economic harm, slash jobs and curb military readiness.
"These cuts are not smart," Obama said in his weekly radio and Internet address. "They will hurt our economy and cost us jobs. And Congress can turn them off at any time – as soon as both sides are willing to compromise."
Obama signed an order on Friday night that started putting the cuts into effect.
Already, the U.S. Congress is getting an earful about the big spending cuts beginning to hit government services from worried and irate constituents, including one senator's own spouse.
Related

Democratic Senator Thomas Carper of Delaware said his wife, "my most important constituent," asked him, "Why can't you guys get your act together? Do you know what people think of you guys?"
"I told her that Washington needs to work more like Delaware," said Carper, a former governor of the state. "In Delaware, Democrats and Republicans work together."
They have not worked together in Washington. And so the across-the-board cuts of the so-called "sequester" – which both Republicans and Democrats have said they oppose – took effect Friday night.
Up until the final few days before Friday, when the reductions began because of a law enacted in 2011, constituents urged, some begged, lawmakers to avert them.
The cuts threaten the U.S. economic recovery, could disrupt federal services from airports to national parks, and may force furloughs of hundreds of thousands of federal workers and employees of federal contractors, the administration says.
"They want to kill us all," Senator Orrin Hatch, a Utah Republican, said of his constituents.
At the heart of Washington's persistent fiscal showdowns is disagreement over how to slash the budget deficit and the $16 trillion national debt, bloated over the years by wars in Iraq and Afghanistan and government stimulus for the ailing economy.
The Democratic president wants to close the fiscal gap with spending cuts and tax hikes – what he calls a "balanced approach." But Republicans do not want to concede again on taxes after doing so in negotiations over the "fiscal cliff" at the New Year.
"The discussion about revenue, in my view, is over. It's about taking on the spending problem," John Boehner, the Republican House of Representatives speaker, said on leaving the talks between Obama and congressional leaders on Friday.
As Obama and his aides have done for weeks, the president in his radio address offered a litany of hardships he said would flow from the sequester, saying, "Severe budget cuts … have already started to inflict pain on communities across the country."
"Beginning this week, businesses that work with the military will have to lay folks off. Communities near military bases will take a serious blow. Hundreds of thousands of Americans who serve their country – Border Patrol agents, FBI agents, civilians who work for the Defence Department – will see their wages cut and their hours reduced," he said.
"The longer these cuts remain in place, the greater the damage," he said. "Economists estimate they could eventually cost us more than 750,000 jobs and slow our economy by over one-half of 1%." Despite that, financial markets shrugged off the stalemate on Friday.
While Obama has put the blame for the cuts on Republicans' intransigence and their determination to protect tax breaks for the wealthy, Republicans insist he is responsible for the fiscal predicament. They also accuse him of exaggerating the expected impact.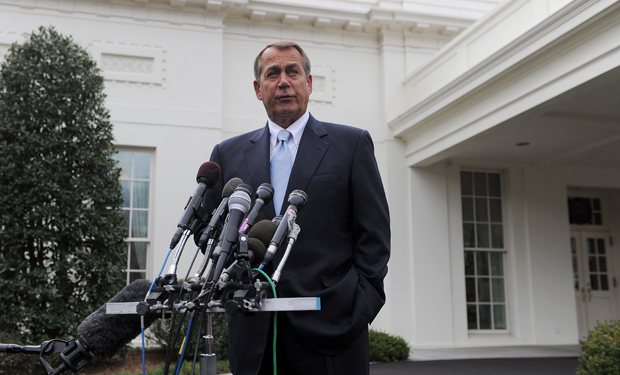 Jewel Samad/AFP/Getty ImagesU.S. Speaker of the House John Boehner says Republicans are no longer interested in talking about increasing taxes: "The discussion about revenue, in my view, is over. It's about taking on the spending problem," he said.
Obama appealed for Republicans to work with Democrats on a deal, saying Americans were weary of seeing Washington "careen from one manufactured crisis to another." But he offered no new ideas to resolve the situation, and there was no immediate sign of any negotiations planned over the weekend.
"There's a caucus of common sense (in Congress)," Obama said. "And I'm going to keep reaching out to them to fix this for good."
One reason for the inaction in Washington is that both parties still hope the other will either be blamed by voters for the cuts or cave in before the worst effects predicted by Democrats come into effect.
A Reuters/Ipsos poll released on Friday showed 28% of Americans blamed congressional Republicans for the sequestration mess, 18% thought Obama was responsible and 4% blamed congressional Democrats. Thirty-seven per cent blamed them all, according the online poll.
Laura Zayner, a senior officer with the U.S. Department of Homeland Security at Chicago's O'Hare Airport, was among 400 federal workers facing possible furloughs who came to Washington last week to lobby Congress.
"We consider the furlough a slap in the face. We take it personally," Zayner said. "We are not picking sides, Democrats or Republicans. But we want them to do their jobs and stop the cuts."
John Kelshaw, who works with the Internal Revenue Service, came to town from New Jersey. He and a few other federal workers met with Republican Representative John Runyan.
"We told him that a lot of our people live paycheck to paycheck. We said, 'Give us a break,'" Kelshaw said. He said Runyan, of New Jersey, listened but made no commitments.
'These cuts are not smart. They will hurt our economy and cost us jobs. And Congress can turn them off at any time'
Polls so far show most Americans blame Republicans rather than Obama and his Democrats for the standoff. But that could change.
Republicans insist that any deficit-reduction replacement deal include only spending cuts. Democrats want a mix of spending cuts and tax increases.
According to a February 28 Gallup survey, 56% of those polled thought the cuts will damage the economy. The feeling crossed party lines, Gallup reported, with 64% of Republicans and 51% of Democrats agreeing they would inflict economic pain.
Democratic Senator Mark Pryor said his constituents in Arkansas routinely ask him, "'Why can't you guys work it out?'"
Pryor said he tells them, "Nobody has clean hands on this."
Both sides seem to size up any issue on a basis of who gets the political advantage, he said. "If someone suddenly came up with a cure to cancer, the question in Washington would be, 'Is this good or bad for Obama?'"
The president on Friday said of the cuts, "This is not a win for anybody. This is a loss for the American people."
Hatch, of Utah, said he recently told his state legislature that he expected the federal government to impose the sweeping cuts. "A number of them stood up and said maybe that's the only way we are going get any real reduction in spending," he said.
On the other side, Representative Luis Gutierrez, a Chicago Democrat who won an 11th term last year with more than 80% of the vote, said his constituents "tell me 'Keep on fighting, Luis, keep on fighting.'"
Representative Scott Rigell, a Virginia Republican whose district includes the shipbuilding yards in Newport News that are likely to be hit hard by cuts in military spending, was dismayed by the untargeted reductions.
Rigell got a letter from a constituent last month that read in part, "My husband, a project manager for the defense industry, went to work this morning to lay off half of his workforce because of sequestration."
In an interview, Rigell said, "When I think they (shipyard workers) could lose their jobs because of the dysfunction in Washington … this is not acceptable to me."
"I've been at that shipyard. Some of hardest working folks I know. They're coming in at 5:30 a.m. with a lunch bucket and making $35,000 a year and wondering if they'll have a job."