'Level playing field': Why a Chinese currency hub will help boost Canada's oil sector
CALGARY – When Prime Minister Stephen Harper, standing alongside Chinese Premier Li Keqiang in Beijing's Great Hall of the People, announced last month that a Renminbi currency trading hub would soon open in Canada, Calgary's oil and gas sector was paying particular attention.
"I think it probably brings us to a level playing field with the U.S., because right now everything goes through U.S. dollars," said Greg Stringham, Canadian Association of Petroleum Producers vice-president of oil sands and markets.
The Chinese currency hub, the first of its kind in either North or South America, will allow Canadian companies to deal directly in Renminbi – a move that is expected to save importers and exporters billions of dollars in transaction fees, especially in foreign exchange transactions in and out of the U.S. dollar, while also eliminating an extra layer of uncertainty in the foreign exchange market. For the first time, the Canadian dollar will be valued directly against China's currency.
The hub would also allow Canadian energy companies to number among the very few producers in the world to sell oil in a currency other than the U.S. dollar. In August, Russia's Gazprom Neft began accepting Rubles or Chinese currency for oil sales off its eastern coast. Russian president Vladmir Putin has recently described the international oil trade as the "dollar dictatorship."
As University of Calgary Haskayne School of Business professor Bob Schulz explained, virtually all of the oil trading around the world is denominated in U.S. dollars, thanks in large part to "petro-dollar" agreements struck in the 1970s between the U.S. and OPEC countries like Saudi Arabia. The U.S. agreed to provide the Saudis and other countries protection in exchange for OPEC members selling their oil in U.S. dollars.
Related

So, when Qatar — it also signed a deal with China to establish a Renminbi trading hub in Doha in November — now sells its oil to France, the transaction is completed in U.S. dollars.
Despite a lack of pipeline access to the West Coast, Mr. Stringham said CAPP's member companies see the announcement as a "positive signal." If midstream projects like Enbridge Inc.'s Northern Gateway and Kinder Morgan Canada's TransMountain pipeline are built, he said, "We don't have to trade through the U.S. currency to get into the RMB."
Jason Henderson, HSBC's executive vice-president and head of global banking and markets, said Canada's trading hub is expected to be operational within three to six months, allowing exporters to sell their products directly to Chinese importers in their own currency.
The benefits of a Renminbi trading hub in Canada are expected to compound over time. The Canadian Chamber of Commerce said in a report in October that during the next 10 years, "the direct benefits of an RMB trading hub would be an additional $21-$32 billion of exports, plus potential discounts on imports totalling $2.8 billion."
While the benefits for many Canadian exporters will show up soon, the oil sector will have longer to wait.
Data from the Asia Pacific Foundation show that right now oil and gas exports do not crack the list of Top 10 Canadian exports to China. "That won't change until a pipeline or multiple pipelines are built so that larger volumes of oil can flow Asia," Yuen Pau Woo, the foundation's distinguished East Asia fellow, said in an interview.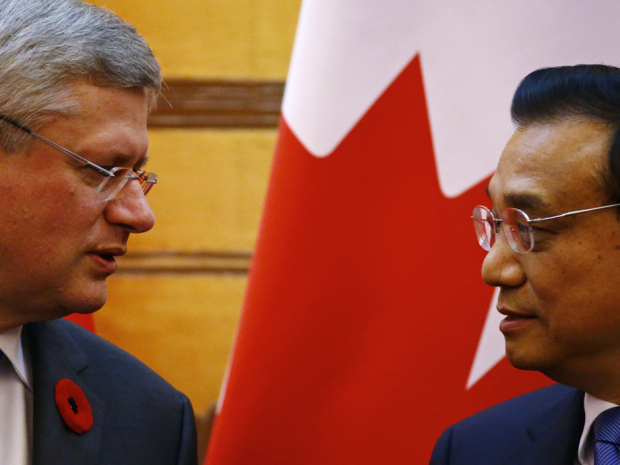 PETAR KUJUNDZIC/AFP/Getty ImagesChina's Premier Li Keqiang (R) talks to Canada's Prime Minister Stephen Harper during a signing ceremony on the sidelines of the Asia-Pacific Economic Cooperation (APEC) Summit, at the Great Hall of the People in Beijing on November 8, 2014.
Gordon Houlden, director of the University of Alberta's China Institute said that China's massive investment in the Canadian oil and gas sector may have played a role in the People's Bank of China permitting Canada to become the first Renminbi trading hub in the Americas.
"I think that was a factor," Mr. Houlden said. He added that during the past five years out of total Chinese investments in Canada of $52 billion, $45 billon of that has been in the Canadian energy sector.
Selling oil in Renminbi would also go a long way to eliminate the massive trade deficit Canada has with China, which Asia Pacific Foundation data shows as $28.6 billion on the year at the end of September.
"In my opinion, with a viable pipeline, we could eliminate that trade deficit right away — even if only half of the oil went to China," Mr. Houlden said.
Oil exports to China could also eliminate the steep price discount that Canadian heavy oil producers face in selling their crude to refineries in the U.S., Mr. Stringham and Mr. Henderson said.
With only one consistent customer for Canadian oil right now, Mr. Henderson said, producers are faced with "trying to get it all through the same syphon." As a second customer for Canadian crude, he said, "China could be an incredibly important partner, not only as a consumer of our oil, but in the ability for us to narrow that gap."
TD Economics analyst Diarra Sourang said in a telephone interview that Chinese companies have shown a bias to trading in their own currency, even to the point of offering better pricing if a transaction is denominated in RMB. In a Nov. 26 report, she showed a Renminbi hub in Canada could save domestic exporters a total of $6.2 billion in transaction costs over the next 10 years.
Even if oil pipelines and LNG facilities are built in B.C. in that time period, Mr. Henderson said the trading hub represents an "immediate win" to the energy industry — specifically, to the energy services sector.
"The real winner in Alberta is the energy service companies," Mr. Henderson said. He added that "Canada has been on the cutting edge for a number of years" by developing new technologies for the oil field, which can be quickly put to use in China.
Oil and gas producers might benefit in the long run, but "that's a five- to 10-year story," Mr. Henderson said.
Despite the long wait, long-time China researcher Mr. Houlden said there's reason for optimism on the part of Canadian producers. "I think that whatever the political waves, we're seen as reliable," Mr. Houlden said. "[China has] been burned in terms of energy supply in Iraq. The same reason we need market diversification, they need supply diversification."