'I don't want to see buck naked men running down Yonge Street': Doug Ford defends Rob Ford's decision to skip Pride parade (again)
Mayor Rob Ford's refusal to attend the gay Pride parade is being branded as "thinly veiled homophobia" — a characterization denied by Councillor Doug Ford, who himself said he doesn't want to see "buck naked men running down the street."
The councillor repeated the "buck naked men" line at least five times in his defence of his brother Thursday, a clear indication that it was not an off-the-cuff quip, but a strategy.
Mayor Ford has never attended the colourful summer festival as chief magistrate, using the excuse that he usually goes up to his family cottage that weekend. On Wednesday, however, he stated that he simply doesn't want to go.
This year, Toronto hosts World Pride, a larger event that celebrates the lesbian, gay, bisexual, transgender, and queer community and which could draw as many as 2-million people to the city.
"I'm not going to go to the Pride parade," Mayor Ford said at an mayoral event at the Scarborough U of T campus. "I've never been to a Pride parade. I can't change who I am."
Councillor Shelley Carroll said that position, along with his opposition to using tax dollars to fund Pride, amounts to "thinly veiled homophobia." She compared him to Russian president Vladimir Putin.
"This isn't going to be a local embarrassment, this is going to be an international problem," she said of his refusal to attend World Pride. "That we have a mayor that is vocal and resolute, I'm not going to change, I don't attend events that celebrate the LGBT community… It's very similar to the embarrassment that Putin is causing his nation and the international hatred towards him."
Kevin Beaulieu, executive director of Pride Toronto, suggested the mayor's attitude toward the gay community is more than just "thinly veiled."
The group has not yet invited the mayor to Pride and isn't sure it wants to, said Mr. Beaulieu, pointing to comments reportedly made by the mayor on the so-called crack video, and his more recent description of Chief Bill Blair as a "cocksucker" during an inebriated rant at Steak Queen in Etobicoke. "It's very troubling that the mayor of a city would make comments that really would embolden any homophobia or transphobia," said Mr. Beaulieu.

Tyler Anderson/National Post
A man kisses a cardboard cutout of Toronto Mayor Rob Ford during the official flag raising ceremony to mark Pride Week in Toronto, Ontario, Monday, June 25, 2012. The mayor did not attend the ceremony that took place on the podium green roof of city hall.
But Councillor Doug Ford said the mayor isn't homophobic. He said he supports the gay community and has friends who are gay, but it's his choice if he doesn't want to attend.
"I spoke to some folks in the gay community and they said they weren't going because they didn't like the idea of men running, middle aged men with pot bellies, running down the street buck naked," he told reporters at city hall. "Let me tell you something, I brought my kids down there, and I wouldn't bring my kids back when there was buck naked men running down the street. I'm not dissing anyone in the gay community, there's a lot of great people that make up this city in the gay community, which are friends of mine. But, no, do I condone men running down the middle of Yonge Street buck naked? Aboslutely not."
He said if revellers want to clothe themselves, he is all for it. "I'll support it."
Related

Deputy Mayor Norm Kelly, meanwhile, says he will be attending the Pride parade. He called the mayor's comments "regrettable."
"But I think the leadership of this council is going to be in complete support of this event and we should do everything we can to make sure Toronto and all of its communities, the gay community in particular, shows themselves off to the world in the best possible light," he said.


THE CANADIAN PRESS/Michelle SiuLiberal Party Leader Justin Trudeau takes part in the 33rd annual Pride Parade in Toronto on Sunday, June 30, 2013.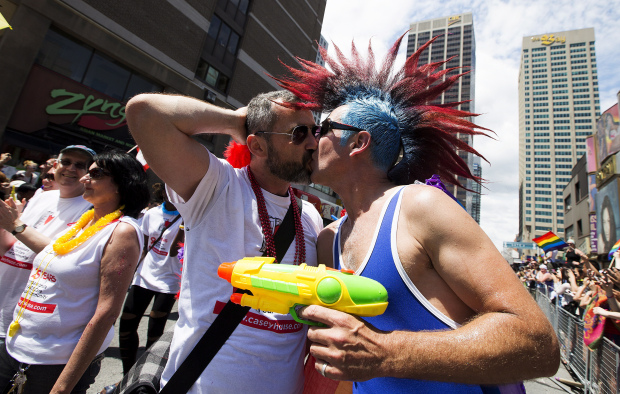 THE CANADIAN PRESS/Michelle SiuParaders kiss during the 33rd annual Pride Parade in Toronto on Sunday, June 30, 2013.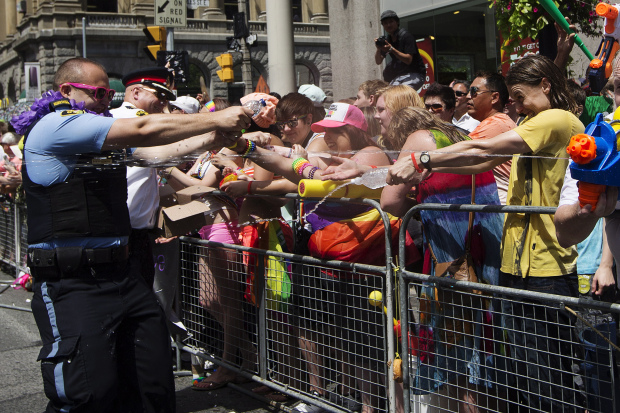 THE CANADIAN PRESS/Michelle SiuA police officer is sprayed by onlookers during the 33rd annual Pride Parade in Toronto on Sunday, June 30, 2013.