'Brewing power struggle': Ivanka's moderating influence giving way to extremist Steve Bannon, sources say
New York — Ivanka Trump and Jared Kushner successfully persuaded Donald Trump to scrap executive orders that would overturn LGBT rights — but the couple's calming influence on the president is starting to wane, it has been reported.
A "brewing power struggle" has emerged between Kushner, the son-in-law who can keep the president "on message", and Steve Bannon, the ultra-conservative former businessman, described as the power behind the throne.
A draft executive order on LGBT rights, aimed at rolling back Barack Obama's progressive reforms, was circulated last week. It outlined a weakening of protections designed to shield LGBT individuals from discrimination.
The First Daughter and her husband, both keen supporters of gay rights, persuaded Trump to shelve the order, sources said.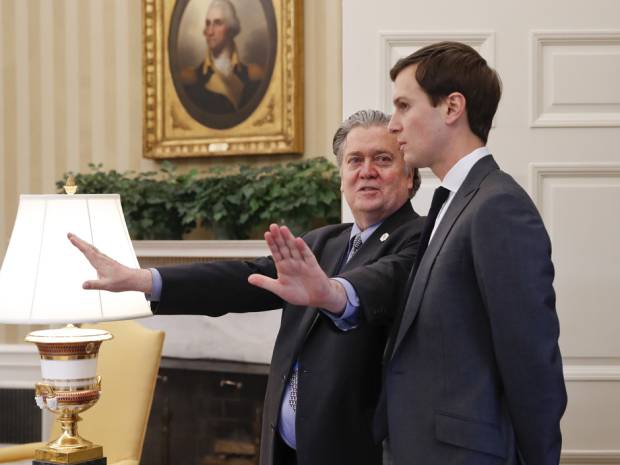 AP Photo /Pablo Martinez MonsivaisCounselor to the President Steve Bannon, left, talks with White House senior advisers Jared Kushner in the Oval Office of the White House in Washington, Friday, Feb. 3, 2017.
Instead, the White House released a statement reassuring the LGBT community that their rights would be protected.
"President Donald J. Trump is determined to protect the rights of all Americans, including the LGBTQ community. President Trump continues to be respectful and supportive of LGBTQ rights, just as he was throughout the election," it said.
It was unclear whether the president was seriously considering signing the draft executive order into law, but the reports of Ivanka Trump and Kushner's intervention could have wider implications.
"There are some in Trump's family that have some views on these things," the source told Politico. "That's where the decision is ultimately being made."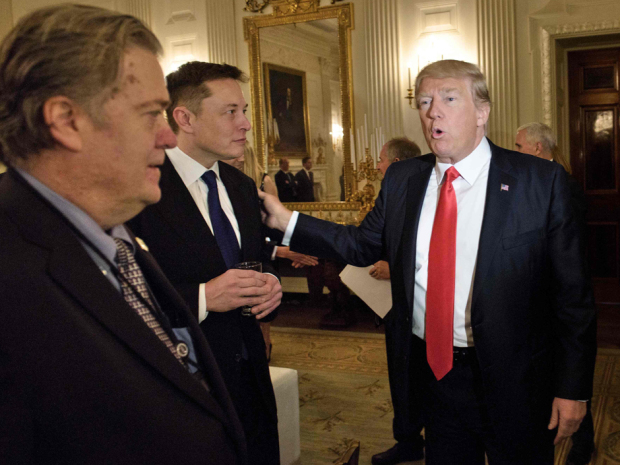 BRENDAN SMIALOWSKI /AFP/Getty ImagesTrump advisor Steve Bannon (L) watches as US President Donald Trump greets Elon Musk, SpaceX and Tesla CEO, before a policy and strategy forum with executives in the State Dining Room of the White House February 3, 2017 in Washington, DC.
Such a stance would pit Ivanka and Kushner against several key far-right White House figures, including Bannon, key aide Stephen Miller and vice-president Mike Pence, who is firmly against expanding LGBT rights and has a strong distaste for marriage equality.
The "power struggle" within the White House centres on Bannon, who is thought to have been the architect of the scheme to ban travel from seven Muslim countries.
Aides to the former Breitbart News Network editor have labelled Kushner "green" and "soft" and worry he is attempting to make the president more moderate, the Daily News reported.
Kushner had apparently reassured business executives before the election that Trump would be "rational" on immigration.
A former property developer, Kushner was said to have been the voice the president listened to above all others on the campaign trail and drafted his speeches.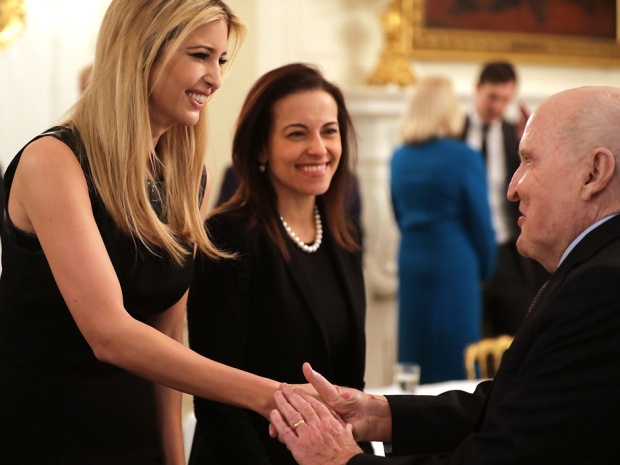 Chip Somodevilla /Getty Images)Ivanka Trump (L) and White House Senior Counselor for Economic Initiatives Dina Powell (C) greet former General Electric CEO Jack Welch at the beginning of a policy forum with U.S. President Donald Trump in the State Dining Room at the White House February 3, 2017 in Washington, DC.
He apparently arranged several meetings for Trump before November's election, including one with Rupert Murdoch.
"I have a feeling that Jared's going to do a great job. He's going to do a great job. You'll work with him," Trump declared during his inauguration celebrations.
Kushner was "f–king furious" that a meeting he had apparently brokered between Trump and Enrique Pena Nieto, the Mexican president, was cancelled, a source told Vanity Fair last week.
Trump had tweeted that if Mexico was "unwilling to pay for the badly needed wall, then it would be better to cancel the upcoming meeting". The Mexican president cancelled the meeting.
"I'd never once heard him say he (Kushner) was angry throughout the entire campaign. But he was furious," the source said.
There are also suggestions that Ivanka Trump and Kushner's orthodox Jewish faith is being exploited within the White House.
It was "no coincidence" that Trump's anti-Muslim "travel ban" was announced on a Friday evening after Kushner had left work and was observing Shabbat, sources told the New York Daily News.
"Everyone is working 24/7, but Jared, because of his religious views, not only can't be in the White House, but can't be on his phone, can't drive his car, can't listen to the radio – he can't be reached," the source said.
The day after the immigration order was announced, Trump posted a glamorous photograph of the couple preparing to go out, while protests raged at airports across America.
Ivanka Trump was apparently unaware of the announcement and the furore it sparked and was reportedly shocked by the backlash against her for posting the photograph, which has been described as her "Marie Antoinette moment".