'The law has to catch up': Why same-sex couples in Israel are flying to Denmark to have their marriages recognized
In a few weeks Eli and Ron will celebrate their relationship with a wedding to be held at the Israel Museum in Jerusalem. There will be food, friends, music and a ceremony. But as far as the state of Israel is concerned, no marriage will have taken place, because the state does not recognize gay marriage. However, gay couples married outside Israel are registered as married on their return.
So shortly after their wedding, the newlyweds will fly to Denmark in order to hold a second wedding, one that can be registered officially upon their return to Israel. Denmark is the ideal country for gay couples to get married in, Eli Kaplan-Wildmann, told The Media Line. Not only does it have some of the most progressive recognition of the rights of same-sex people to marry, it also doesn't have a residency requirement. While most secular Israelis go to Cyprus when they wish to marry outside of Israel's strict religious marriage laws, gay couples fly to Denmark, Kaplan-Wildmann said, because same-sex marriage is not permitted in Cyprus.
All issues of personal status, including marriage and divorce are under the control of the Orthodox rabbinic authorities in Israel, in a decision that goes back to the creation of the state. There is no civil marriage in Israel, only religious marriage, although civil marriages are retroactively recognized by the government. The issue of gays is especially problematic.
Kaplan-Wildmann, an Orthodox Jewish theater director, says Israeli society, and even the more liberal parts of the Orthodox world, accept his sexual orientation.
"We hold hands in the street," he told The Media Line. "Israel is more open to LGBT rights than a lot of other countries. There is a sense that Israel has bigger issues to deal with."
In fact, Tel Aviv is considered a gay cultural capital to rival the reputations of Berlin or San Francisco, and in 2012 was voted the most popular city in the world by gay travellers.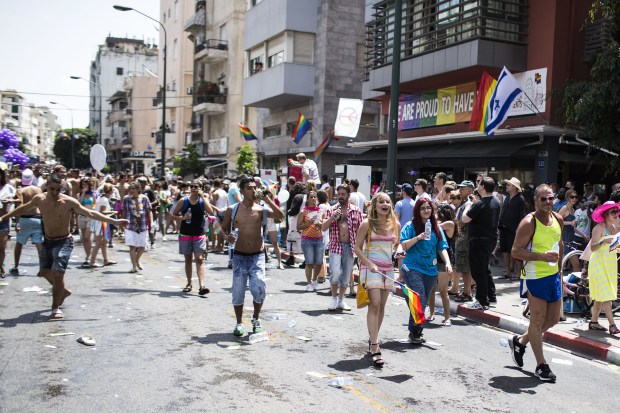 Ilia Yefimovich/Getty People take part in the annual Tel Aviv Gay Pride parade on June 7, 2013 in Tel Aviv, Israel.
Yet many gays say they would like to be able to get married in Israel. The issue has come to the fore after Ireland, long considered a conservative Catholic stronghold — so much so that divorce only became legal in 1995. Last week, Ireland became the first country to recognize same-sex unions through a referendum. Could a similar popular movement occur in Israel?
"The law has to catch up," Kaplan-Wildmann explained. "I look forward to more equality but gay marriage is not the main issue," he said, adding that a change in the legal system to allow civil partnership for all citizens is the priority.
"We don't focus on (gay) marriage – other issues are focused on, as a more practical (solution)," to inequality, Tom Canning, Director of Development at the Open House for Pride and Tolerance, told The Media Line. The Open House is a LGBT non-governmental organization which has been active in Jerusalem since 1997, campaigning for equality for homosexuals.
Canning said same-sex marriage will never be recognized as long as the rabbinate controls the rules surrounding marriage. The ultra-Orthodox parties are also a key part of Israeli Prime Minister Benjamin Netanyahu's ruling coalition, and all past efforts to legalize civil marriage or gay marriage have failed.
"The connection between (it) and the state is too strong for this to happen," Canning said. His organization would prefer a more liberal form of Judaism to gain influence in the Rabbinate, one which would benefit the LGBT community, he said.
Everything that has been achieved for LGBT rights has been won through the courts rather than through the political arena, Canning said. Despite popular support for gay rights, politicians do not push for legislation because of strong opposition from the ultra-Orthodox.
Gay couples are not the only people unable to marry under Israel's marital laws. As religious authorities have control of weddings, marriages must be between two people of the same religion. A Jew cannot legally marry a Muslim or a Christian.
"The state has a long arm that cause a lot of suffering," said Irit Rosenblum, Founder and CEO of New Family. The problem is the ties between state and religion, Rosenblum said, explaining that she believed that the relationship between two human beings should not be dictated by a government.
Related

A spokesperson for the Orthodox Rabbinate declined to comment in detail, saying simply that if changes were to be made in future they would have to be made in the Knesset.
Other Orthodox representatives said that the law against civil marriage helps guarantee the Jewish future of the state of Israel. The consequences of the law for homosexual couples and others unable to marry are understood and regrettable, Ziv Maor, a former spokesperson for the Rabbinate, told The Media Line, but the law is necessary.
"Throughout history few nations have ceased to exist because of genocide – most nations which ceased to exist, did so because of assimilation," he said. "The price gay – and some heterosexual – couples pay for not being able to marry is enormous," Maor conceded, admitting that it was a price that he personally did not have to bear. As the Israeli army protects Israel from violence and anti-Semitism, he said, the country's religious marital laws protected it from assimilation.
Throughout history few nations have ceased to exist because of genocide – most nations which ceased to exist, did so because of assimilation
If a referendum, with the same question as Ireland's — that "marriage may be contracted in accordance with the law by two people without distinction as to their sex" — was called in Israel now it would pass, Canning of the Open House asserts. But legislators would not enable such a debate because of the political turmoil that would ensue if it were to happen, he concludes. Rosenblum of New Family is less convinced. "No – not as long as Benjamin Netanyahu is our Prime Minister," she said on the question of the possibility of a referendum in Israel. "The government is a reflection of the people and of society," she added, saying that the citizens of Israel are open minded but that that alone is not enough.
Eli and Ron are less concerned. They have a wedding and the party that goes with it to prepare for – not to mention a trip to Denmark.
"It might be the case that a referendum would pass here," Kaplan-Wildmann said, "but there is no administrative framework to bring about the process until there is a recognized form of secular marriage."
It is still good to see the legalization of same-sex matrimony in Ireland, Kaplan-Wildmann said, especially in a country with such a historically strong connection between church and state. Of the global trend towards recognition of LGBT equality Kaplan-Wildmann adds, "It's heartwarming to see the scale tipping — in the world, country by country, and also in the U.S., state by state."
The Media Line